To see a detailed index of the below articles Click Here!
Contract Cancellations Roil D-FW new Home Buyers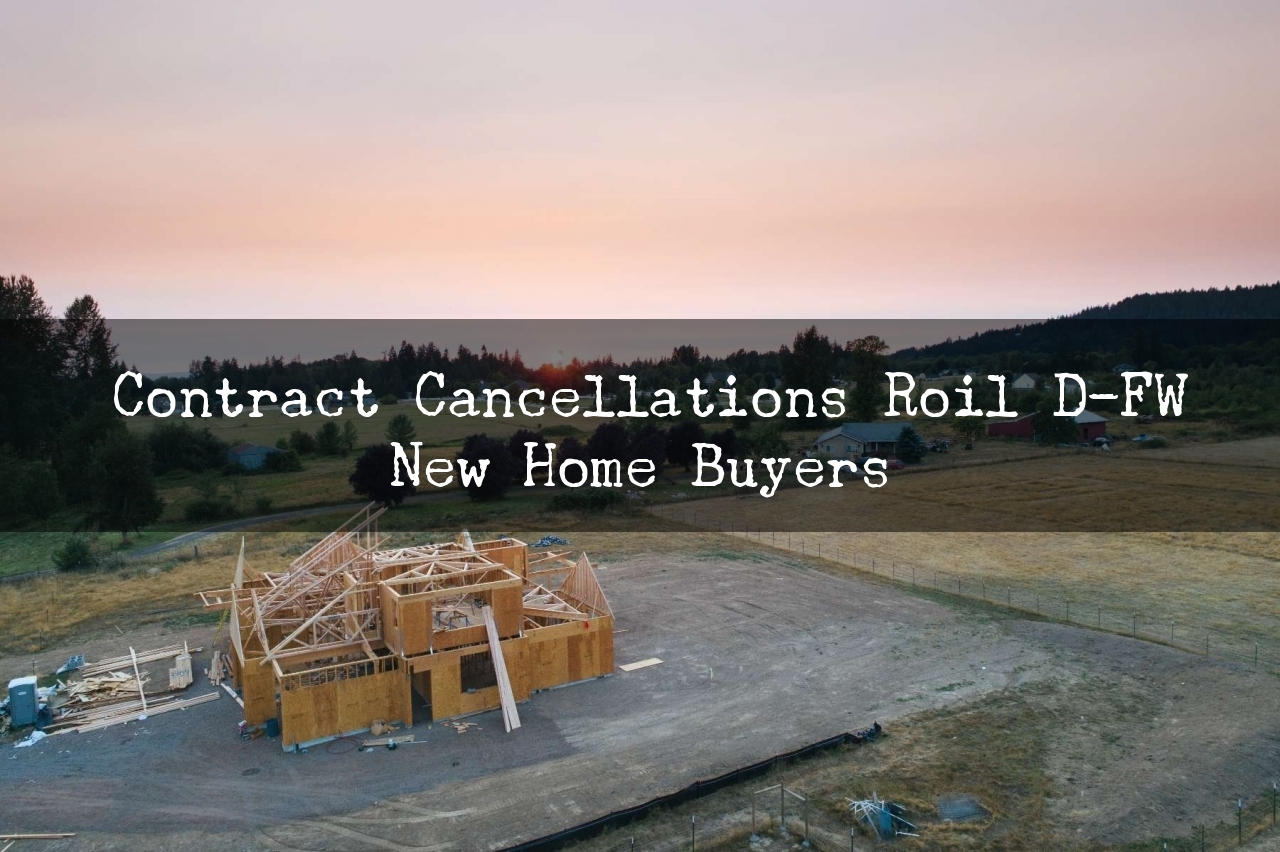 Are D-FW Home Prices Out of Control?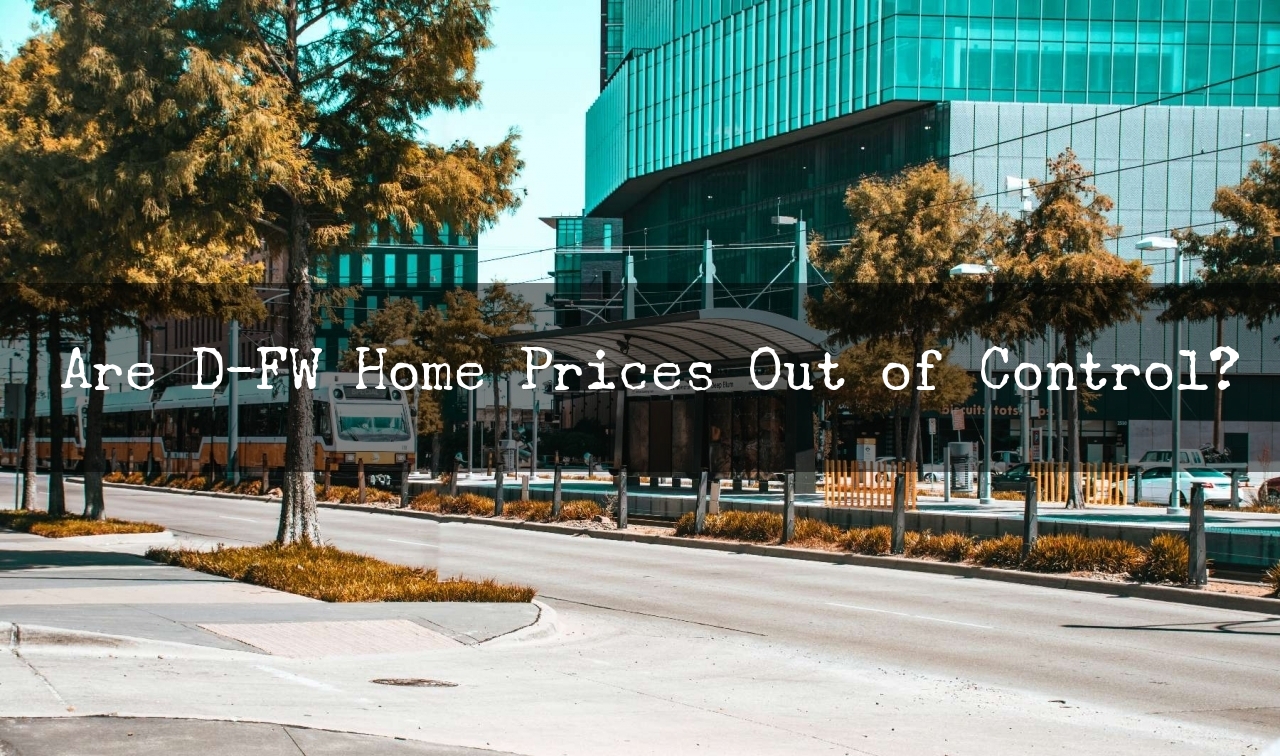 Texas Land Rush Shows No Sign of a Slowdown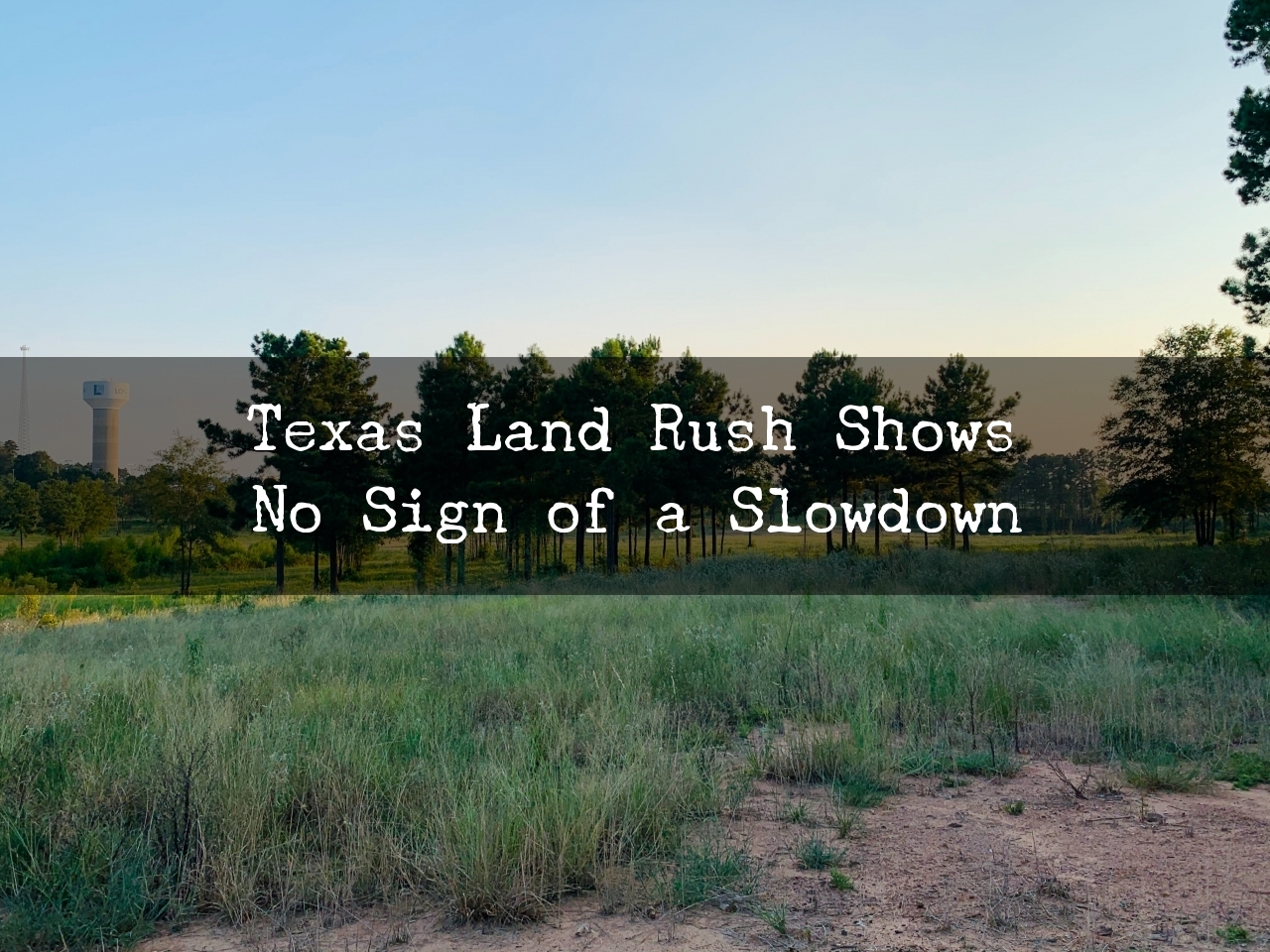 Texas Home Prices Are Headed Higher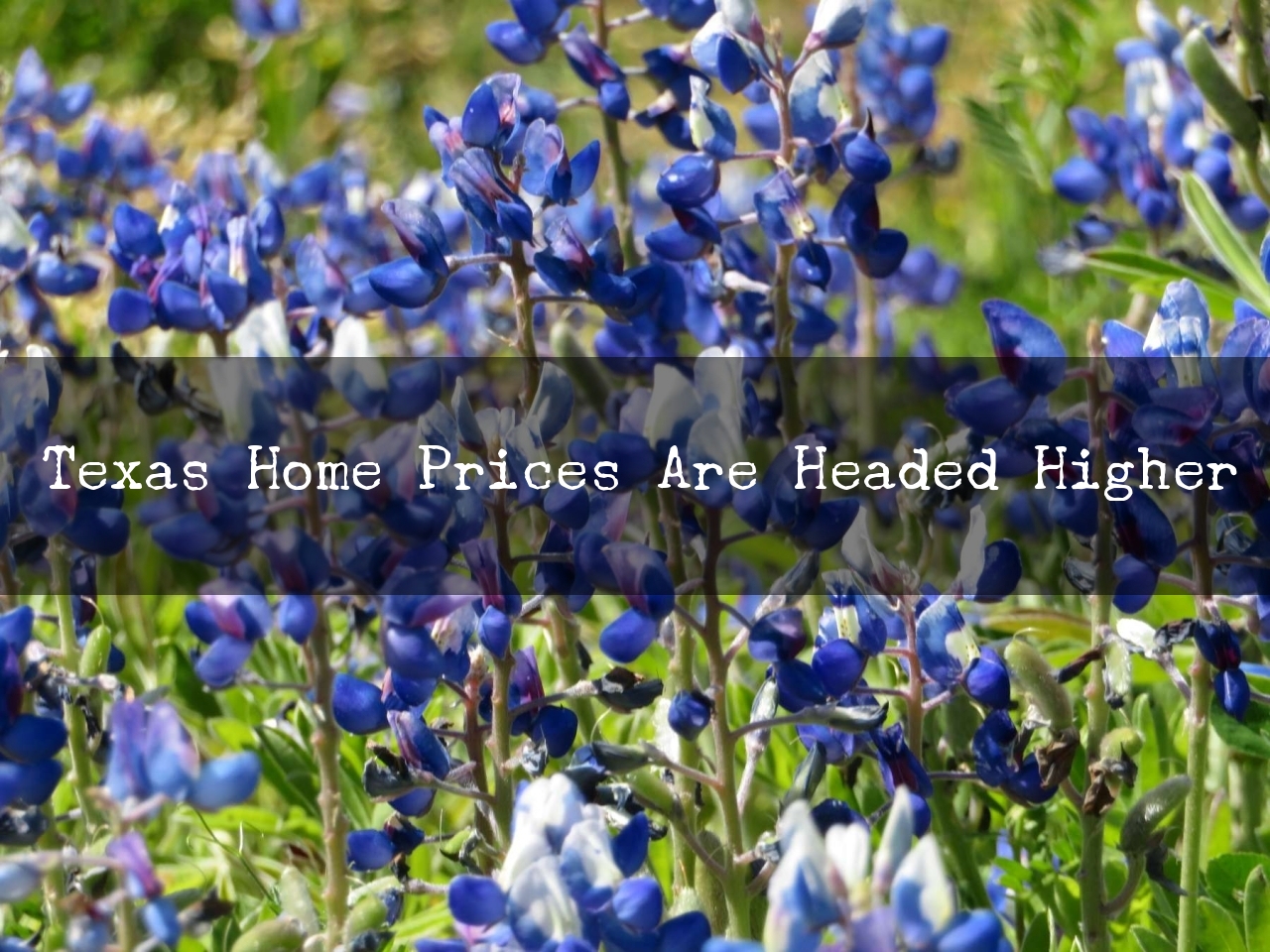 Will the Housing Market Retain Its Momentum?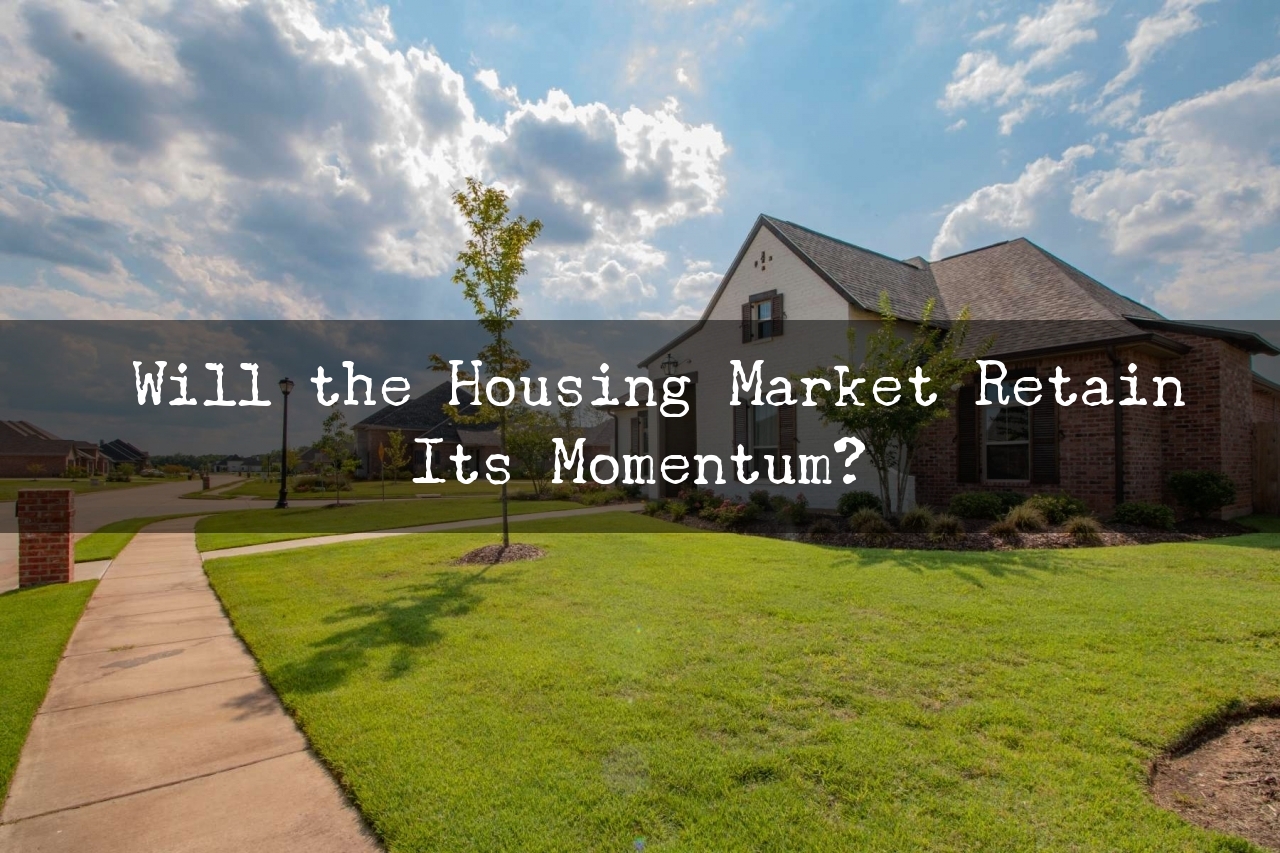 As Home Prices Rise, Attention Turns to Affordability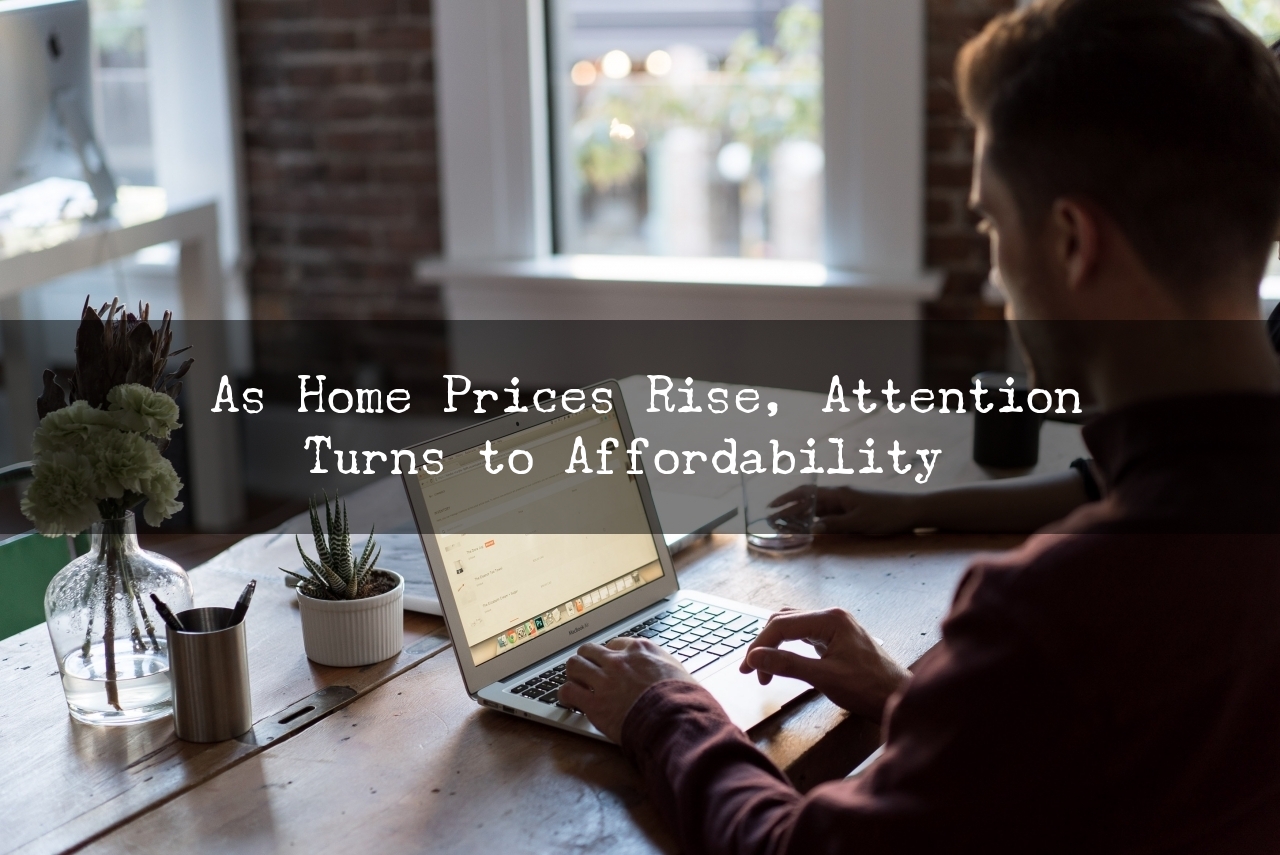 North Texas Home Prices Surge to Unheard-of Levels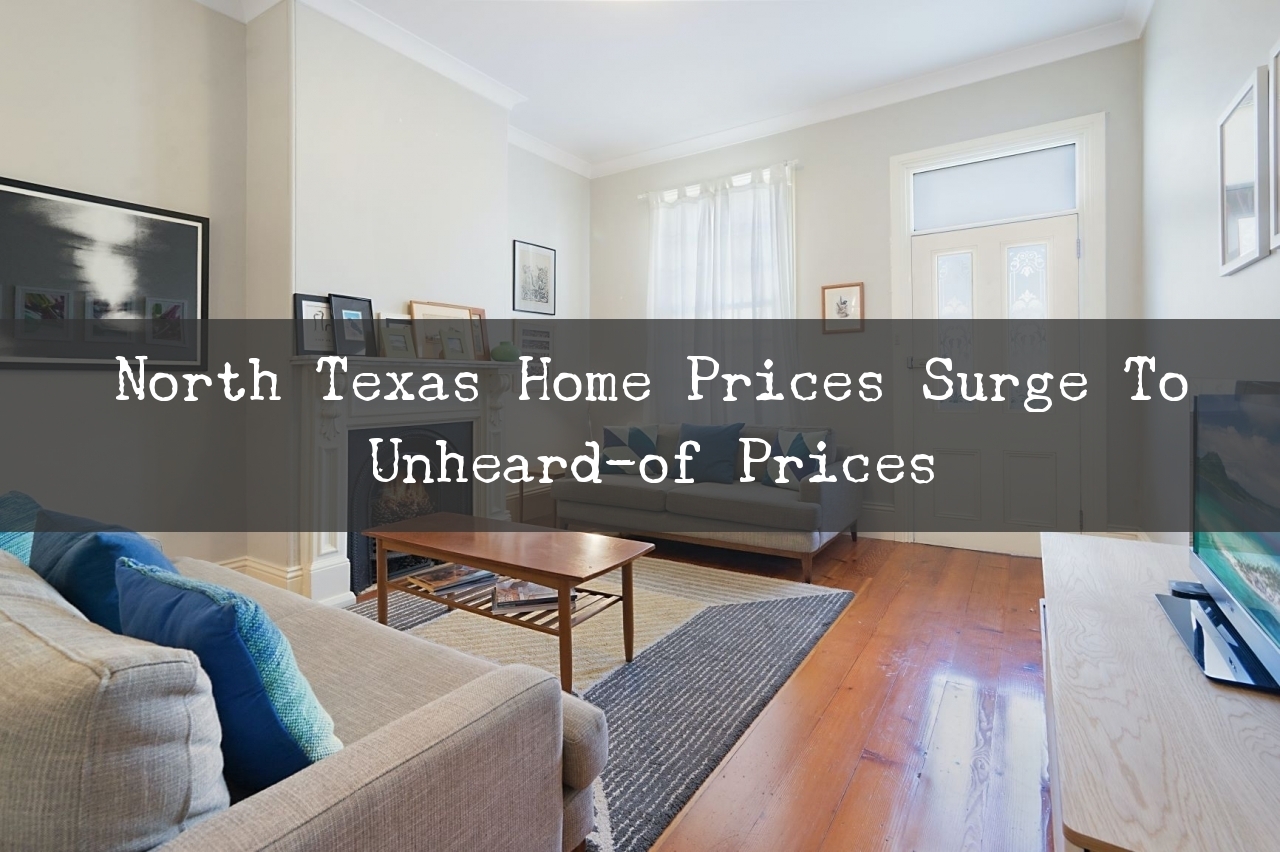 Home Price Outlook Across the U.S. Turns Negative
Part of Frisco's Brinkmann Ranch Sells for $1 Billion Development
Are Dallas Home Prices Headed Lower?
What Is Going On in the U.S. Housing Market?
North Texas' Industrial Building Market Seems Immune to the Pandemic
Texas Was the Top Destination For Corporate Moves in 2019
Home Prices Still Grew in March As the Pandemic Took Root
Mortgage Purchases Signal Housing Recovery May Be Here
Think We're Headed Into A Buyer's Market? Guess Again.
Gain For Housing Share of GDP During 1Q20
Will the Housing Market Turn Around This Year?
Housing Could Be the Leader in the Post-Pandemic Economy
Samsung is Making a Major Expansion Near DFW Airport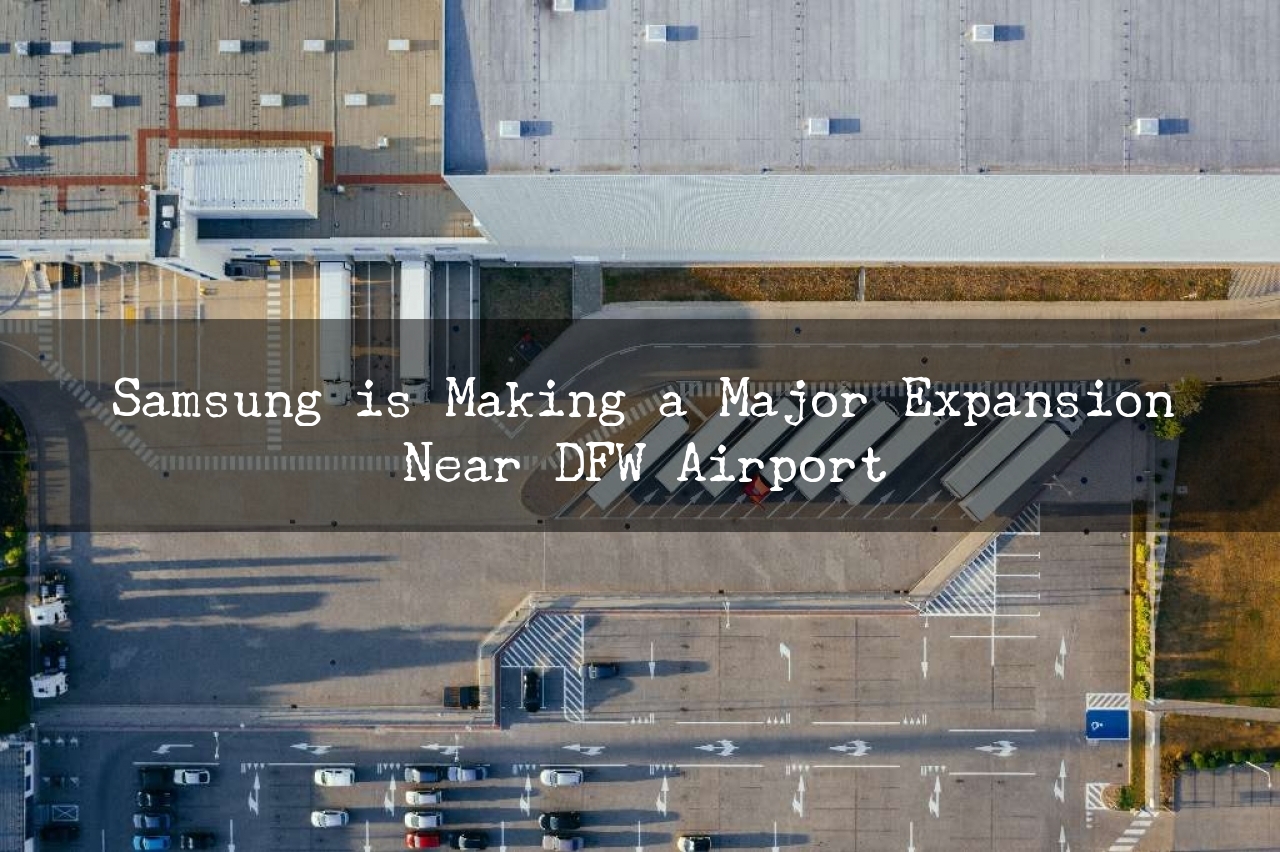 D-FW Apartment Demand Bounces Back
Pending Home Sales Sink in D-FW
D-FW Tops the Country With Gains in Construction Jobs in March
JPMorgan Chase to Raise Mortgage Borrowing Standards
Fannie Mae: Home Sales Will Decline by 15% in 2020
Lenders Are Raising the Credit Bar For Homebuyers and Refinancing
Most D-FW Apartment Residents Are Keeping Up With Their Rent
Core Logic Reports U.S. Annual Delinquency Rates Fell
So Far, Less Than 4% of U.S. Home Loans Are in Forbearance
What If I Need to Sell My Home Now?
House Hunting? There's A Lot Less to Choose From
Real Estate Agents Are Seeing Fewer Home Buyers and Sellers
From Rumor to Reality : Spokane's Housing Market Slows, But Prices Stay Steady
Seattle Real Estate Market Analysis - April 2020
Information From Past Pandemics and What We Can Learn
What is the Impact of a Recession on the Housing Market?
Looking to the Future: What the Experts Are Saying
Newest Home Foreclosure Numbers Belie the Coming Wave
Dallas Area Home Price Growth Had Slowed Before the Pandemic Hit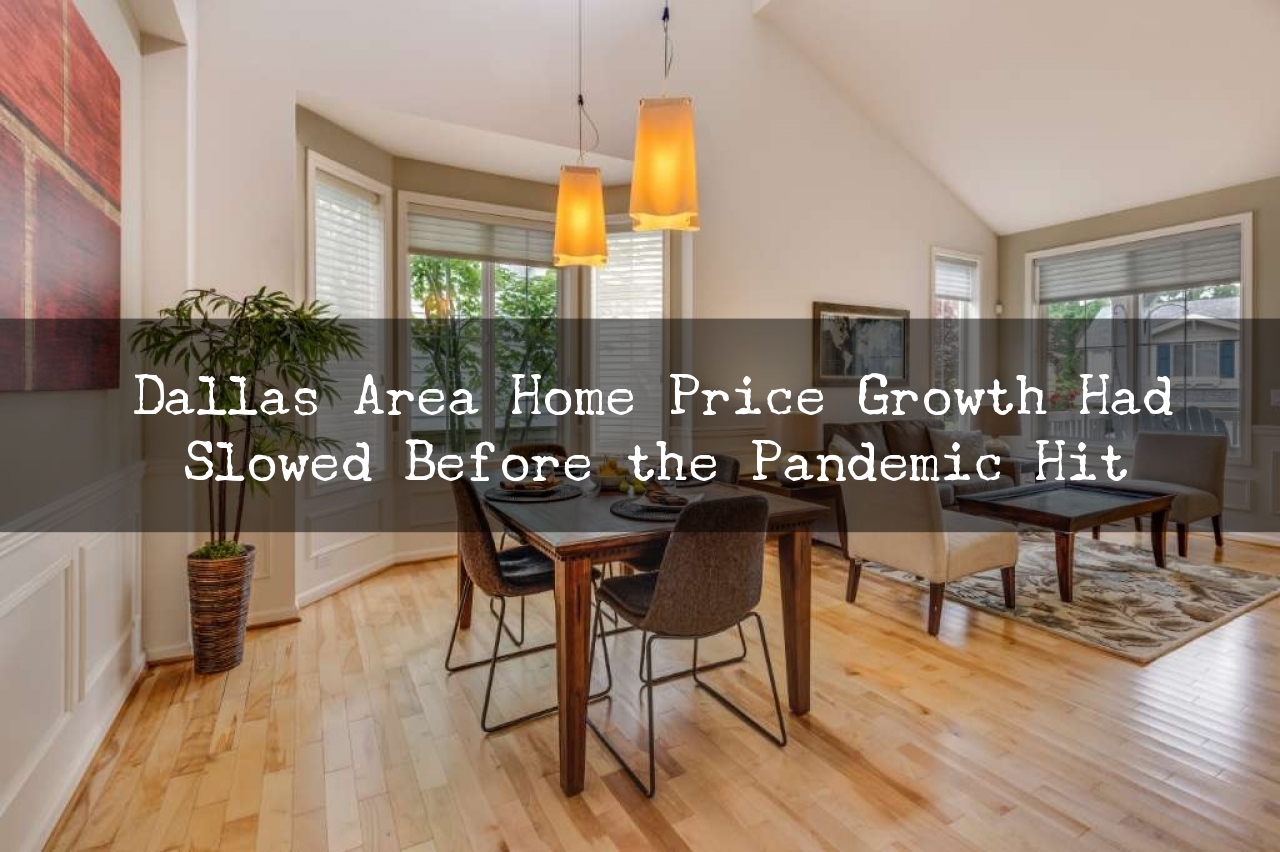 How Does It Work If You Skip Mortgage Payments?
Homebuilding Continues While Many Other Jobs are Shut Down
Why the Stock Market Correction Probably Won't Impact Home Values
Don't Blame Housing - This Time the Home Market Hopes to Escape the Economic Downturn
Homeowners May Delay Mortgage Payments Up To 1 Year Due to Virus
Three Reasons Why This is Not a Housing Crisis
Are We About to See a New Wave of Foreclosures?
Dallas Home Prices Could Get Hammered By Economic Shakeout
Flood of Mortgage Filings Swamp Lenders
Dallas on List of Cities With Most Home Value Hikes
Home Market Could Take a Hit From Economic Headwinds
Most Recession-Resistant Cities - 2020 Edition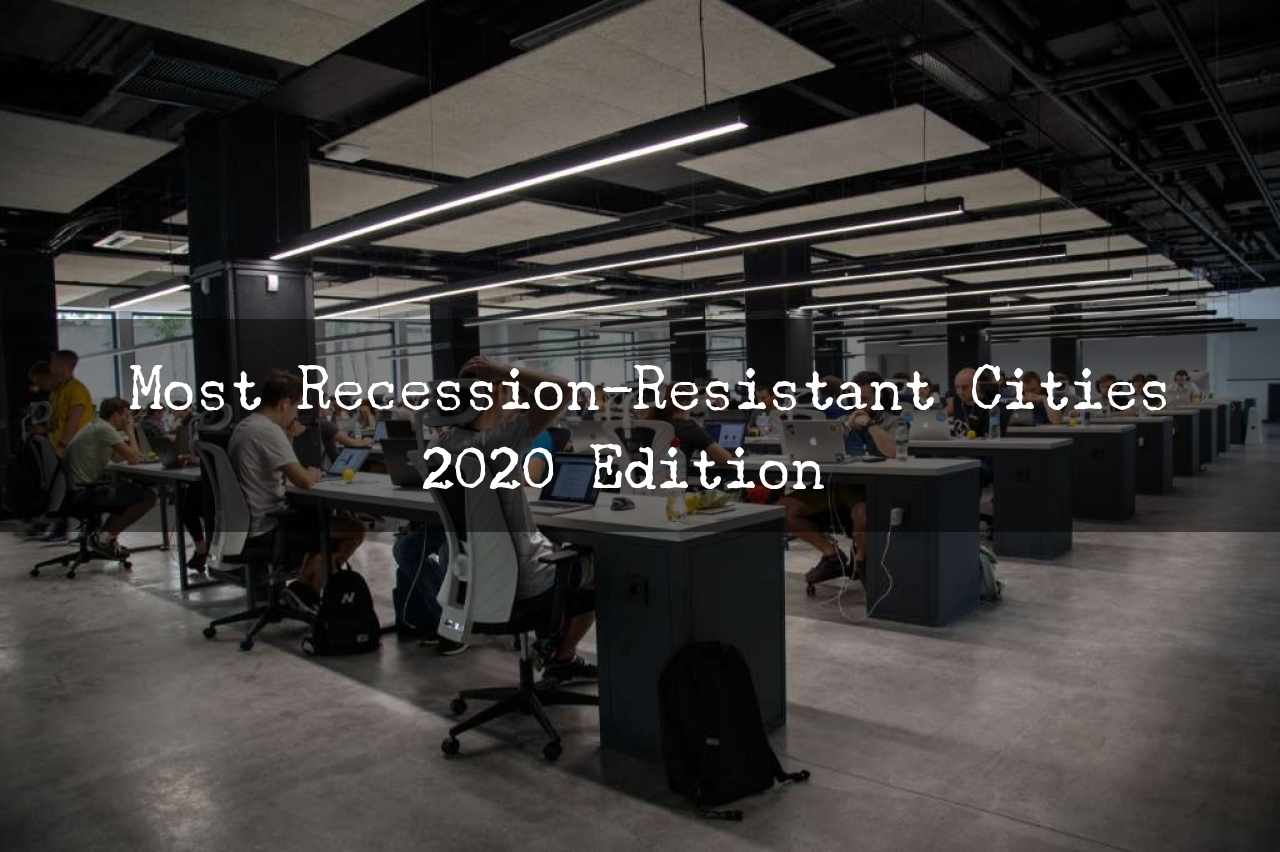 February Was Another Big Month for North Texas Home Sales
How the Coronavirus Could Impact the American Real Estate Market
Apartments with Cafe and Retail Planned for South Irving
Texas is Missing More Than a Half Million Houses
How the Coronavirus Could Impact the U.S Housing Market
Are Texas Developers Building Too Many Apartments or Not Enough?
Fighting the Fake News of the R-22 Phaseout
How To Get Your House Show Ready
Fort Worth is Among Potential Sites For Electric Vehicle Plant
New Business Park Near DFW Airport Will Bring More Than 2 Million Square Feet
Texas Home Prices Are Headed Higher This Year
Don't Believe What You See on Reality TV!
Dallas- Fort Worth Could See Biggest Population Surge
Irving Approves New 236-unit Apartment Complex
Dallas County Home Prices Soar in January
Dallas Makes the List of Top Commercial Property Investment Cities
Should I Sell This Year?
North Texas Home Sales Blew the Roof Off in January
Fewer D-FW Homes Fetch More Than List Price
Driving on Icy or Slushy Roads
New Residential Community Southwest of Dallas Will Have Thousands of Homes
D-FW Led the Nation's Metro Areas in Job Creation in 2019
Dallas-are Home Prices Up 2.8%
More Homeowners Opt For Fixing Up vs. Moving
Recession? What Recession?
The Texas Economy Added Almost 1,000 Jobs A Day in 2019
Annual Events in Coppell, Irving
Dallas-Fort Worth Tops the Country in Office Job Growth
Home Builders Still Behind on Demand
Where Are All The People Coming From?
New Loan Limits Blow the Roof Off Mortgages
Dallas County Tops Area in December Home Sales
The Hidden Reason Why House Prices Are Too High
Freddie Mac December Forecast
With No State Income Tax, Where Does Texas Get Its Money?
D-FW New Home Starts Surged 22%
Buying a Home Early Can Significantly Increase Future Wealth
Why You Should Sell Your Home in 2020
7 Ways Sellers Sabotage Their Home Sale
The New Spring Real Estate Market is Here. Are You Ready?
Is This Recyclable?
Austin and Fort Worth Lead in Home Price Gains
The 2020 Real Estate Projections That May Surprise You
4 Self-Aware Ways to Follow Through On Your Resolutions
Could a Bullet Train From Dallas to Houston Improve Texas' Environment?
Two Texas Cities Expected to Outperform Most Other Big Metros
D-FW Commercial Building Starts Jump 41%
Biggest D-FW Real Estate Deals of 2019
U.S. Home Foreclosures are Near a 20-year Low
Fannie Mae Boosts 2020 Housing Forecast Significantly
Mouth-Watering Outdoor Kitchens
$300 Million Residential Community with 1,000 New Homes On the Way
Tarrant County Saw Biggest Home Price Gains in November
New Forecast: Dallas Housing is Still Too Hot
Kraft's $25 Million Garland Expansion Will Create 250 New Jobs
Pioneer Natural Resources' New Irving Headquarters Sells for $584 Million
Dallas Homeowners Have Gained More Equity Than the Texas Average
DFW Home Construction and Sales Will Head Higher in 2020
Why Investors are Big on the Dallas Housing Market
Almost 700,000 Californians Moved Out Last Year, Many Ended in Texas
D-FW Ranked as One of the Country's Best Housing Markets
These Three Texas Cities Are Among Nation's Top 10 'Boomtowns"
UK Water Company Opening a Factory in Grapevine
Boomer Home Sales Will Boost Housing Supply in D-FW and U.S.
Should Sellers Pull Their Listings Off the Market This Winter?
Housing Market Comeback Heats Up
Dallas, TX Housing Outlook for 2020
Dallas Home Price Gains Widen in Latest Report
$3.5 Billion Project North of Ft Worth Will Have 10,000 Homes
California Electronics Firm Opening Garland Plant
Legal Eagles are Flying High in D-FW's Office Market
More Apartments Coming to Cypress Waters
Housing Trends Foreshadow Housing Shortages Ahead
Market Outlook Remains Positive
Loan Performance Insights - Delinquent Mortgages
Texas Unemployment Remains Low
Cautionary Tale for Future Homebuyers
D-FW Area Still Tops for U.S. Homebuilding
D-FW Home Price Increases Have Grown Along With More Sales
Austin and Fort Worth Top Dallas in Home Price Gains
New Mesquite Community Will Bring More Than 2,500 Homes
Airport Project Part of Development On the Way in Addison
Nationwide, D-FW Home Price Gains Grew in Third Quarter
Housing Market Has Heated Up As Mortgage Rates Have Cooled
Mortgage Loans Are Stronger Than Ever in Texas
Dallas-Area Home Prices Inch Higher in Latest National Snapshot
Lower Prices Gave Tarrant County the Edge in September Home Sales
How To Price Your Home Like the Savviest Sellers
Remodeling Regret: 5 Kitchen Layout Ideas To Avoid
Home Trends To Avoid
New Community in Mansfield Will Have 1,600 Homes
Google's Massive $600M Data Center Takes Shape in Ellis County
Dallas Home Rental Costs Inch Higher
California Developer Plans Farmers Branch Industrial Project
Home Foreclosure Rates at 20-Year Low
D-FW Homebuyers Scrambled in September to Take Advantage of Low Mortgage Rates
Study Computes Dallas As Top Affordable City for Tech Workers
D-FW Office Construction Increases
Still Building: House Shortage Will Be With Us For Years to Come
Hong Kong Firm Starts 6,000-home Community North of Dallas
Rockwall, Denton Counties Led in August Home Sales Gains
North Texas Home Sales Headed Higher in August
More Than a Quarter of Dallas-Area Homebuyers Pay More Than Asking Price
Amazon Air to Hire 300 People
New Texas Laws, Effective Sept 1, 2019
Coppell Residents Show Opposition To Proposed Tax Rate Increase
New Lakeside Apartments Being Built in Irving's Las Colinas Community
Austin and Dallas Lead Texas in Home Price Gains
Builder Confidence Trending Higher As Interest Rates Move Lower
3 Expert Insights On Inventory In The Current Market
Should I Buy A House If A Recession Is Coming?
Housing Sentiment Hits New Survey High on Improving Jobs, Mortgage Rate Expectations
D-FW Home Prices Rise While Values Fall in Some California Neighborhoods
Uber To Set Up Major Hub In Downtown Dallas
Drop in Mortgage Rates Is A Boon for Homebuyers and Refinancing
Hundreds More Apartments in the Works At Cypress Waters Community
Plano is a Top US Market to Buy a Home
Denton County Saw the Biggest Jump in July Home Sales
Home Sales Set D-FW Record in July Up 7% From 2018
Dallas Home Prices Growing at Slowest Rate Since 2012
More D-FW Residents Are Renters As Homeownership Rate Declines
Is Your Community Up or Down?
Kitchen Renovation Trends of 2019
D-FW Builders Start More Homes Than in Any U.S. Market
More D-FW Homes are Selling at a Discount
Texas Unemployment Falls Again to New Historical Low In June
D-FW and U.S. Housing Costs Still Headed Higher
Dallas Is a Top Housing Market for Baby-chasing Boomers
D-FW is a Top Market For New Tech Jobs and Related Real Estate Demands
Developers Hit the Ground With New D-FW Office Building Projects
So-called iBuyer Real Estate Firms Pitch Programs To Buy Your House
Fewer D-FW Homeowners Are Late With Mortgages
D-FW Home Starts Sank Lower in the Second Quarter
Tips To Beat High Summer Electric Bills
Lower Mortgage Costs Boost Housing Outlook For 2019
Dallas-Area Home Price Gains Slowed To a Trickle in May
First Look: Frisco's 2500-acre Fields Development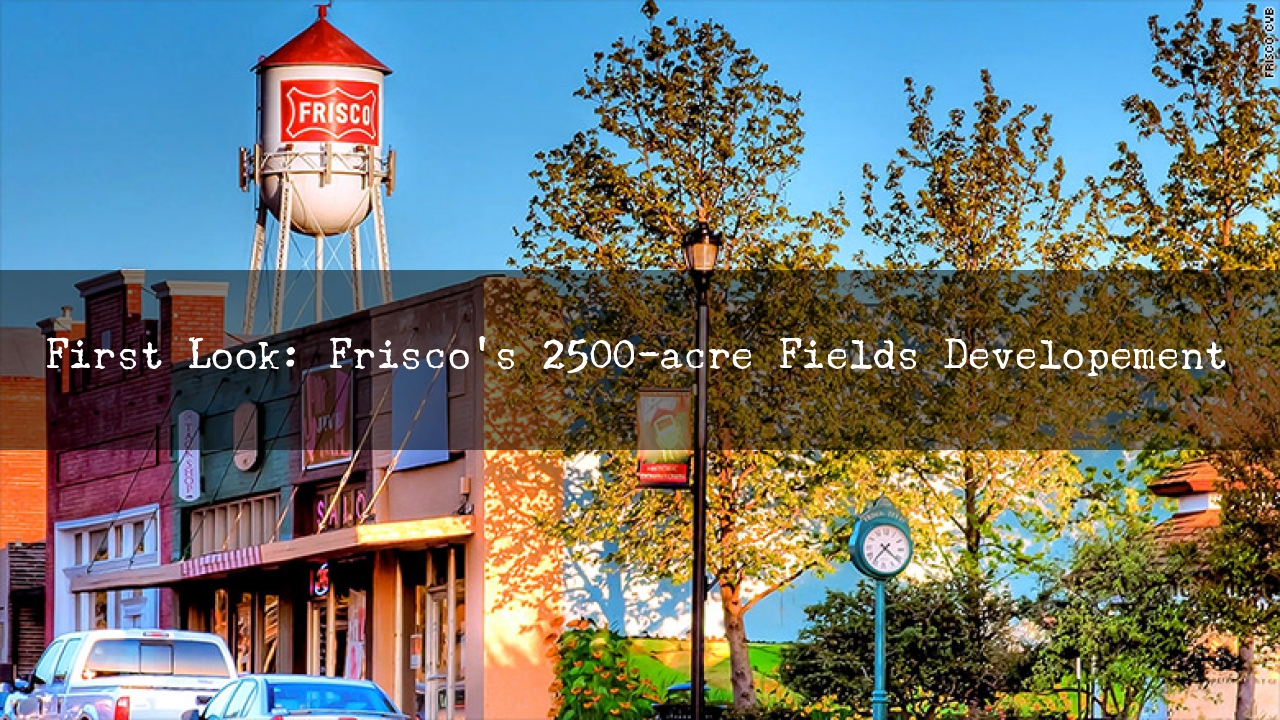 Dallas-Area Home Prices Up Just 2.7% in Latest Case-Shiller Report
Nothing To Cry About!
South Haven - New Community in Irving TX - American Legend Homes
South Haven - New Community in Irving TX - Normandy Homes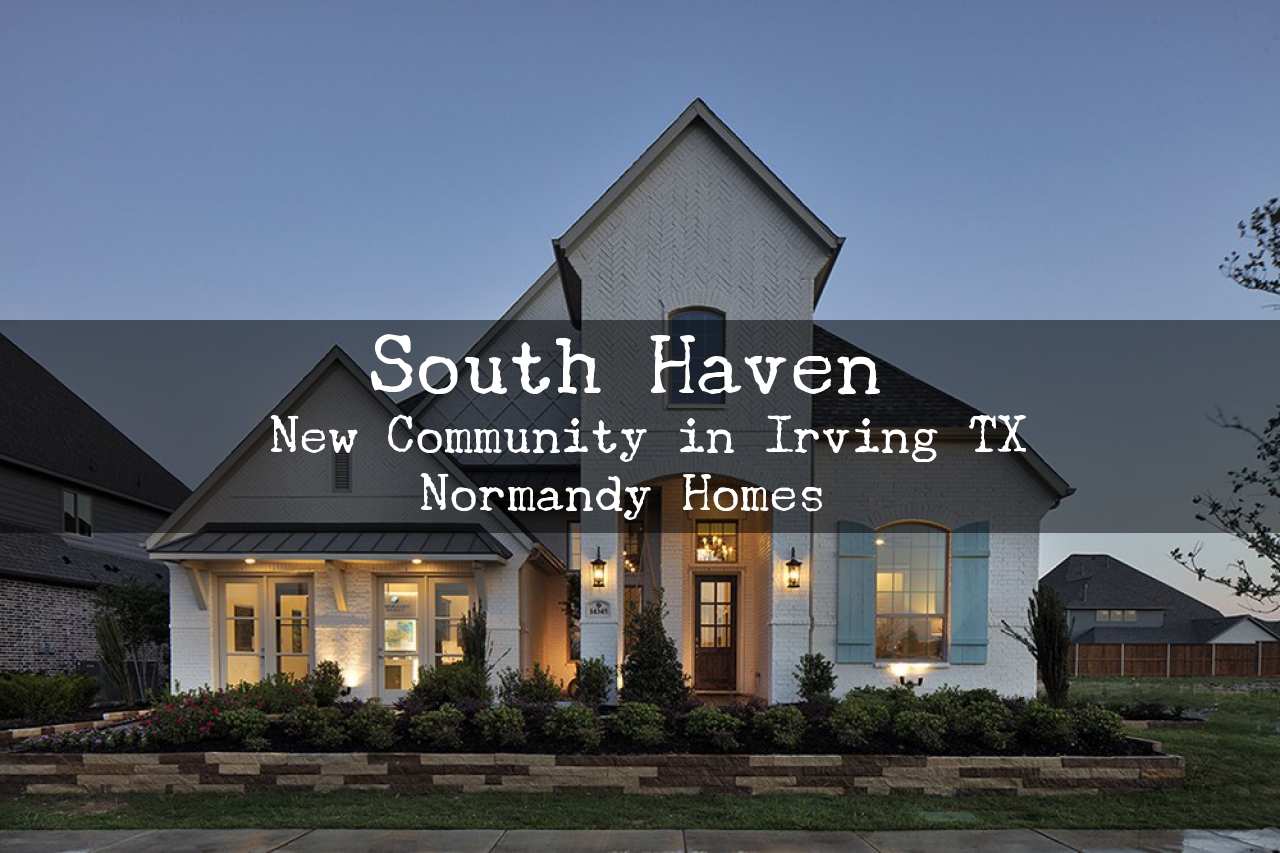 Need to Renew Your Driver's License? You'll Most Likely Need to Visit the DMV
Dual Agency vs. Designated Agency : Know the Difference
Check Out The Sound in Cypress Waters
D-FW Tops U.S. in Residential Building
JPMorgan Chase Will Bring 4,000 More Workers to Plano With New Tower Project
North Texas Home Sales Bounced Back in May
Selling Your Home With an 'Instant Offer' Could Cost You Thousands
Future of Texas Plumbers' Licensing and Regulation Uncertain After Legislative Impasse
Why is Gutter Cleaning So Important?
Efficient Irrigation
D-FW Nonresidential Building Surged in April
Dallas-Area Home Prices Grew By Less Than 3% in April
The Best Kitchen Renovation Trends of 2019
Why You Should Keep Your Dogs Away From Your AC
Texas Legislature Passes Two Important Bills Prohibiting Waiving of Deductibles
Texas Added More Jobs Year Over Year in April Than Any Other State
Home Foreclosure Totals Keep Falling in Dallas Fort-Worth
Recession Ahead? Yes, But Probably Not Soon
2019's Housing Market Is Likely to Be Stronger Than We Thought
Latest Housing Forecast Paints a Rosier Picture
D-FW Home Prices Up Only 1.4% From Last Year
Is the Long Run-up in D-FW Home Prices Over?
10 Things Real Estate Agents Wish They Could Tell You
D-FW Tops the U.S in New Home Starts
North Texas Homes Sales Rebound in April
Texas House Approves Property Tax Reform Bill
House Proud: See the Variety of Styles Dallas Builders Will Showcase in Charity Home Tour
Most Dallas Neighborhoods Are Experiencing a Home Sales Slump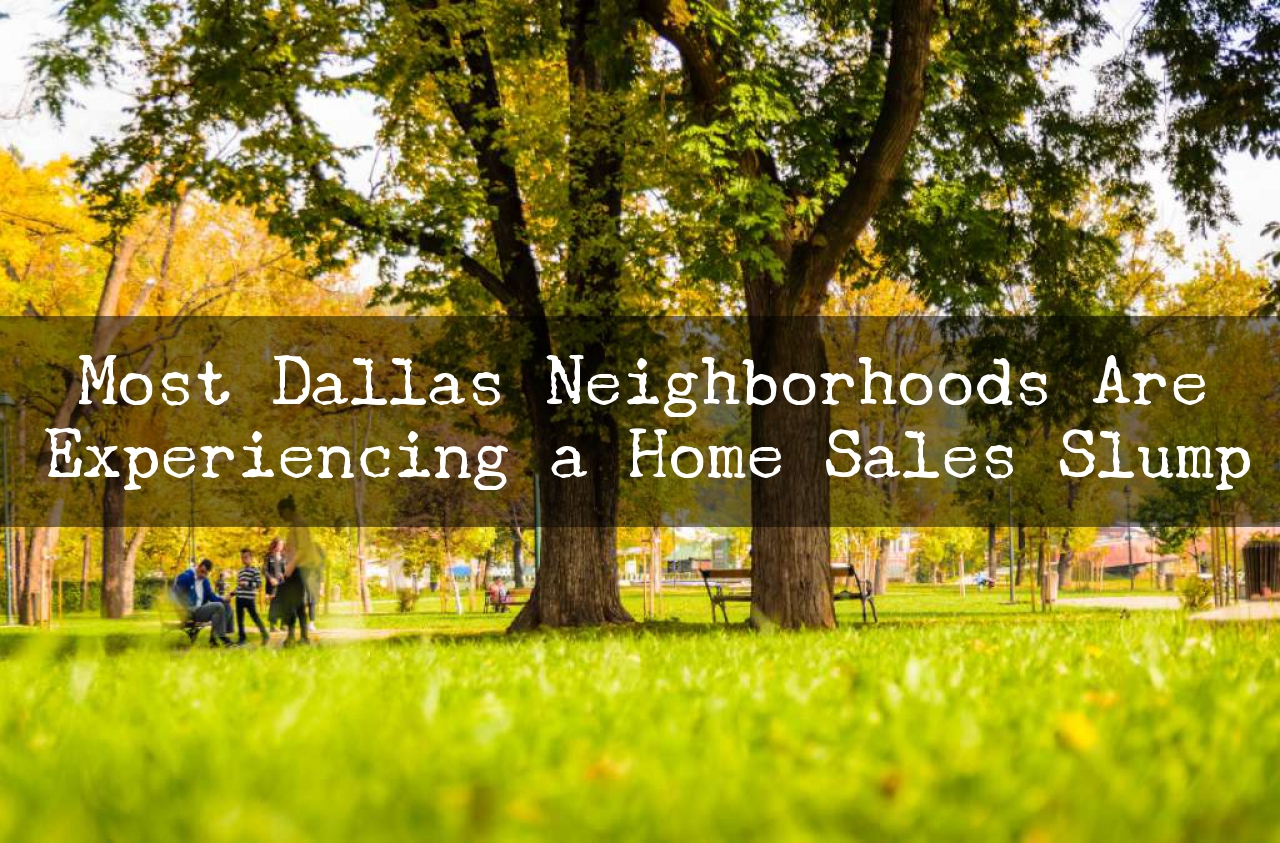 Dallas-Area Home Price Gains Smallest Since 2012
7 Must Know Spring 2019 Home Maintenance Tips
Allstate Insurance to Create 1300 New Jobs in Major Expansion of Irving Operations
Signs of Change : D-FW is Shifting Towards a Home Buyers' Market
Feeling Crowded Yet? D-FW Gained 1 Million People in Less Than a Decade
The Home Renovations That Garner Sellers the Best Return on Investment
The Federal Reserve is Projecting No Rate Hikes in 2019
D-FW and U.S. Home Foreclosure Rates Are Continuing to Fall
Forces Behind Interest Rates
10 Cities in Danger of a Housing Crash This Year
Bank Of America Says it Will Make $5 Billion in Mortgages to Low and Moderate Income Borrowers
North Texas Home Sales, Prices Inched Higher in March
Mortgage Rates Today
Loan Performance Insights Report
D-FW Home Prices Are Down, But Affordability is Still a Hurdle
Sign of Spring? More D-FW Homes Have Price Cuts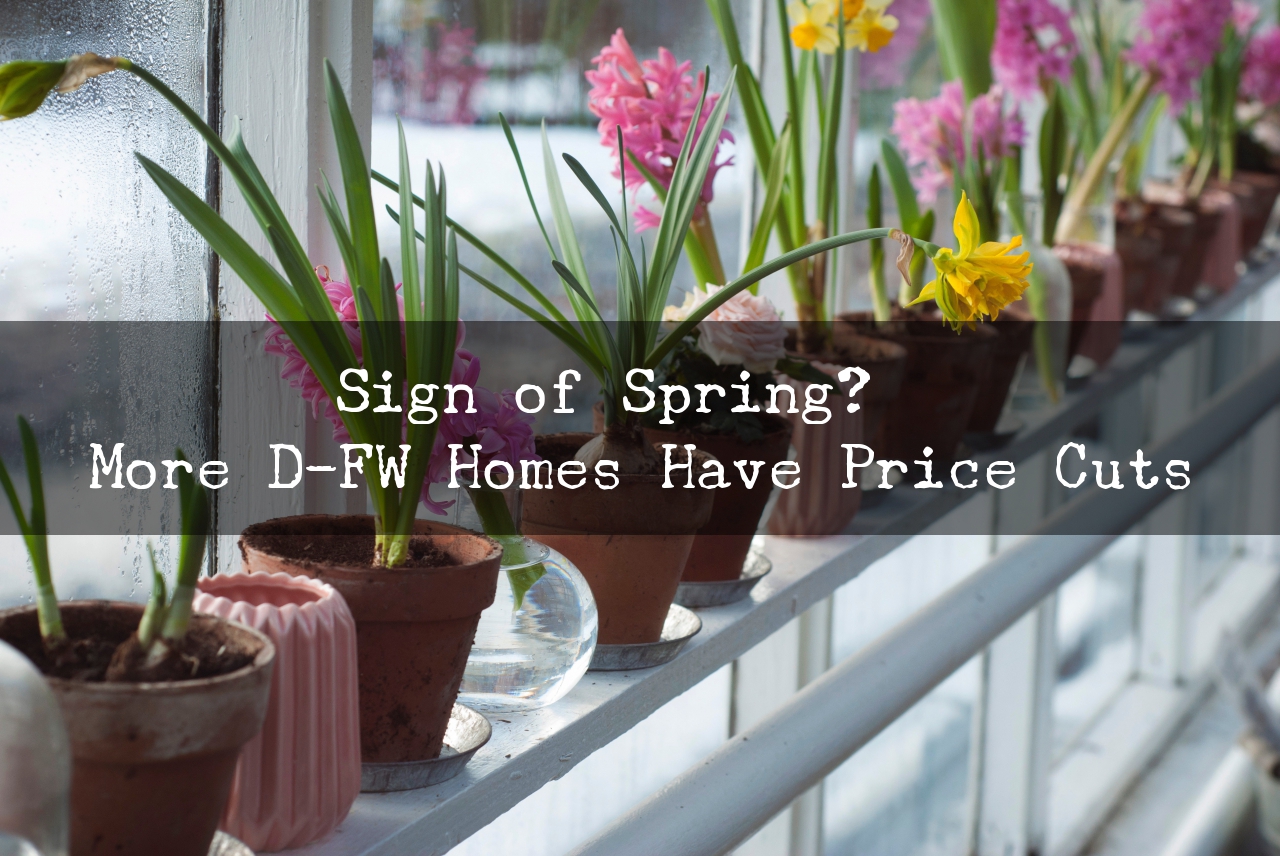 Dallas Home Prices Up at the Lowest Rate in 7 Years
5 No-Cost Tricks to Sell Your Home Faster
D-FW Second Only to New York in January Job Growth
Home Sales Prices Fell in Dallas and Rockwall Counties in February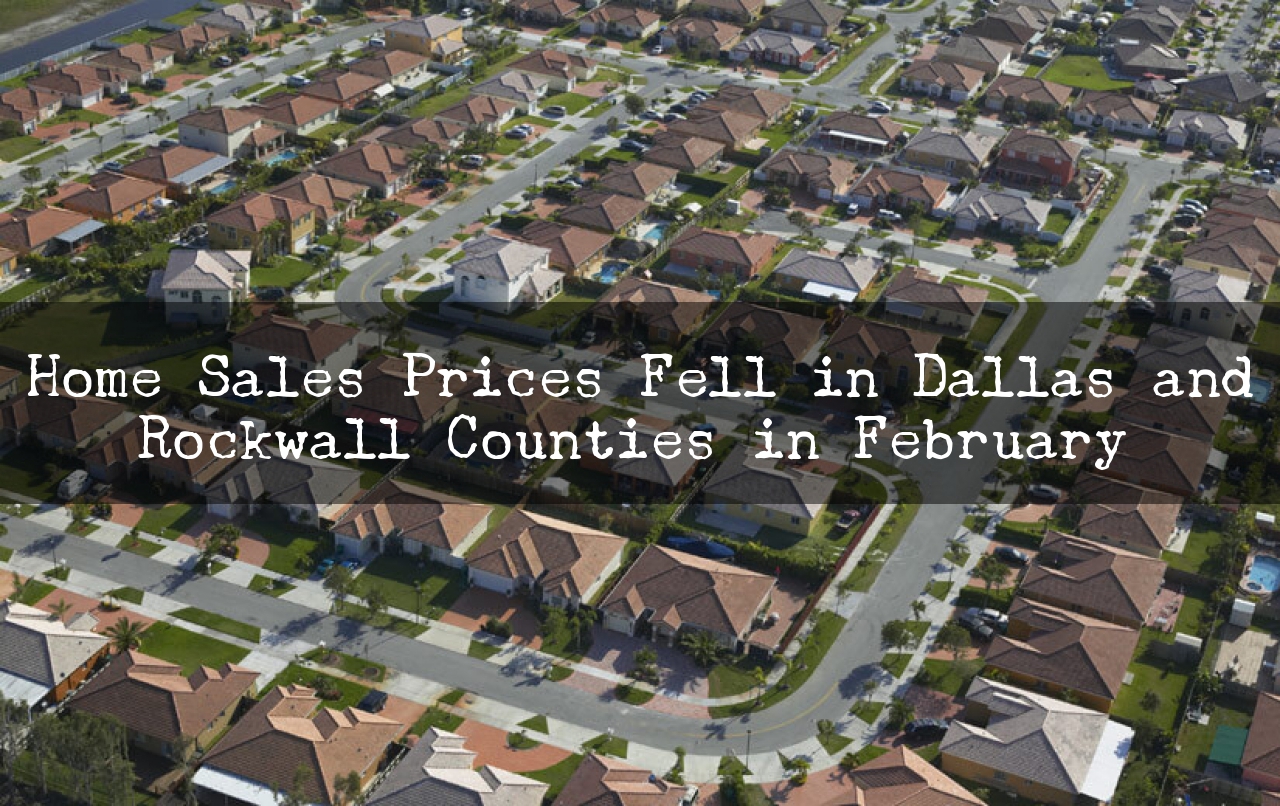 North Texas Home Prices Stalled in February
Job Opportunities Drive List of Hottest U.S. Markets for 2019
Six Tax Myths Even Smart Homeowners Believe Are True
Why is My Electric Bill So High?
With Mortgage Rates Rising, More Homeowners are Opting to Remodel
January Home Prices Increased by 4.4% Year Over Year
Contract Signings Gain
Watch the Full Article Video Here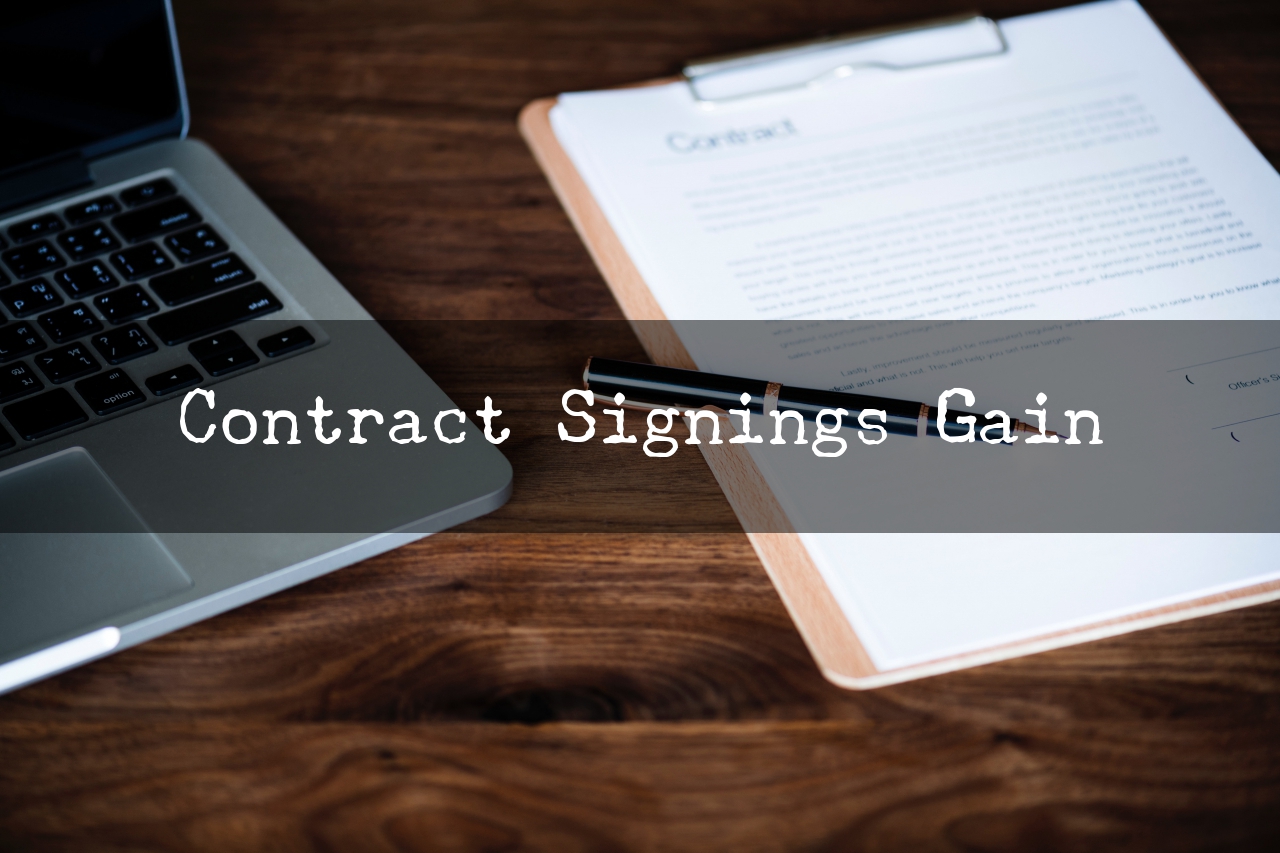 Loan Performance Insights
Rising Mortgage Rates and Inventory Help Cool Home Price Growth
Attic Air Leaks : How to Find and Seal Them
D-FW Topped Texas for 2018 Home Sales
Smaller Gains Ahead for Mortgage Payments
Mortgage Rates Near Long-Term Lows After Fed Minutes
As Country Gets Richer, Homeowners See the Most Gain
Why Homeowners are Richer Than Renters
When is the Best Time to Buy a Home in 2019?
D-FW Home Sales Listings Explode as Property Purchases Declined in January
January D-FW Home Sales Were the Weakest in Four Years
D-FW Tops US in Homebuilding for Third Year in a Row
D-FW Closes Out 2018 As One of Nation's Top Office Leasing Markets
That's So 2018! The Most Outdated Home-Selling Advice You Should Now Ignore
D-FW Topped the Country in New Construction Jobs in 2018
Dallas-Fort Worth Led Nation in Jobs Growth in 2018
Where To Watch the Super Bowl in Dallas
Where You Live Affects Your Ability to Build Wealth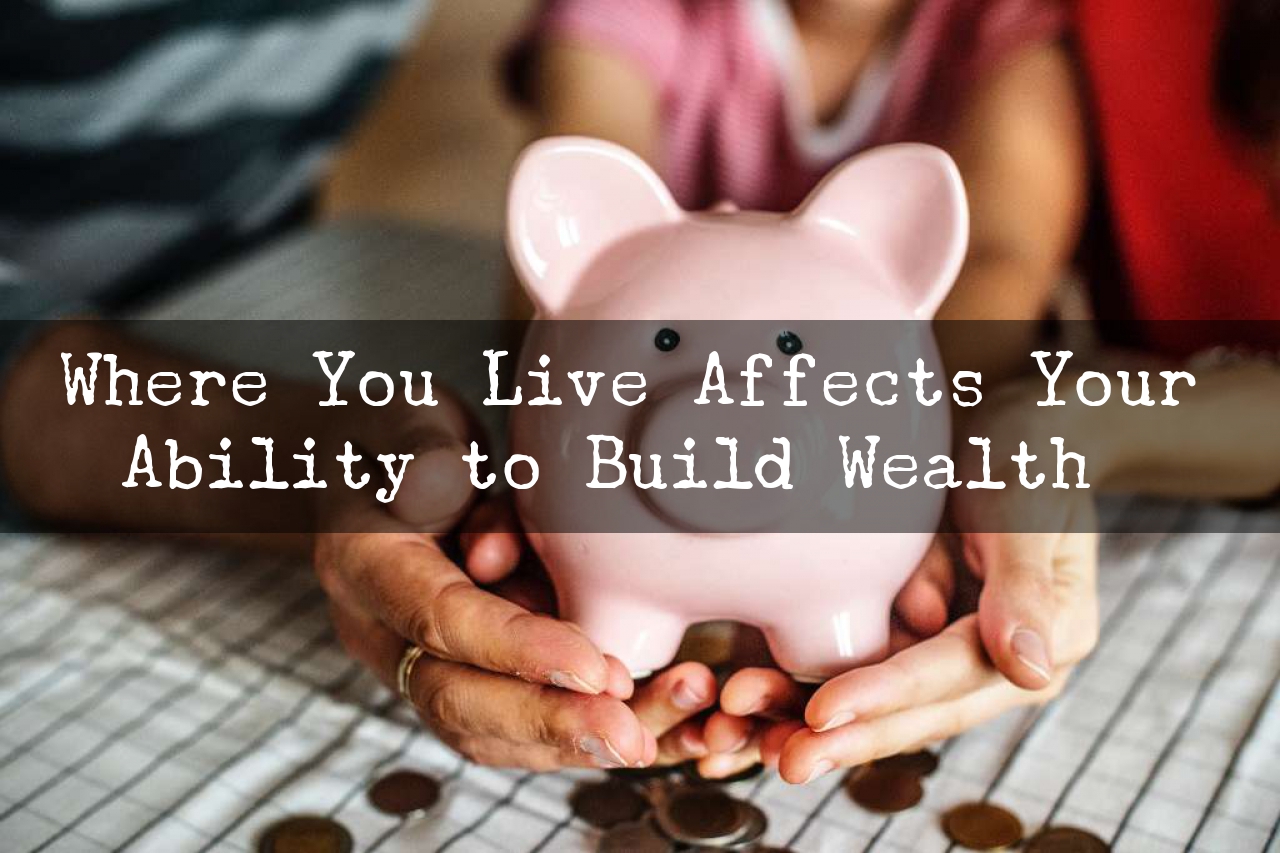 Home Buyers Can Rejoice While Sellers Sweat
Most Dallas-Area Neighborhoods Saw Fewer Home Sales in 2018
Ready to Downsize in Sq. Feet, But Not Lifestyle - Check Out This Product
Mortgage Rates NOT Expected to Stay Around 4.5%
Texas Gained 391K Jobs in 2018
Steve Harney's Predictions for the 2019 Real Estate Market
Average Time to Sell a DFW Home is Now the Longest in Years
New Home Starts Down With Exception of Under $350K
No Foreclosure Surge in Our Near Future!
10 Key Trends in Dallas-Ft Worth Real Estate in 2018
Yes! Listing in the "Off-Season" Works
TEXRail is Open for Business from Fort Worth to Grapevine
Look! Prices Still Increased in Dallas Area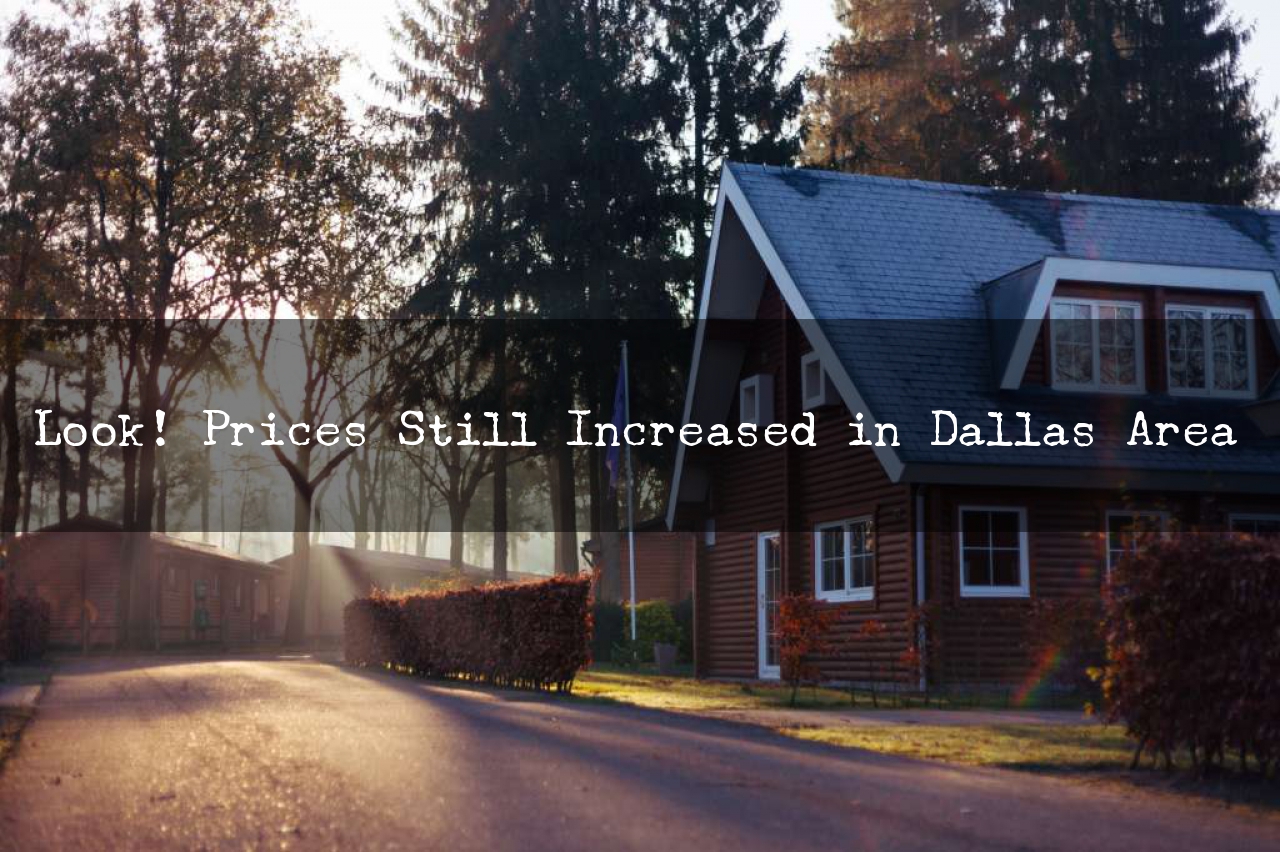 Why McKesson Chose Las Colinas for New Headquarters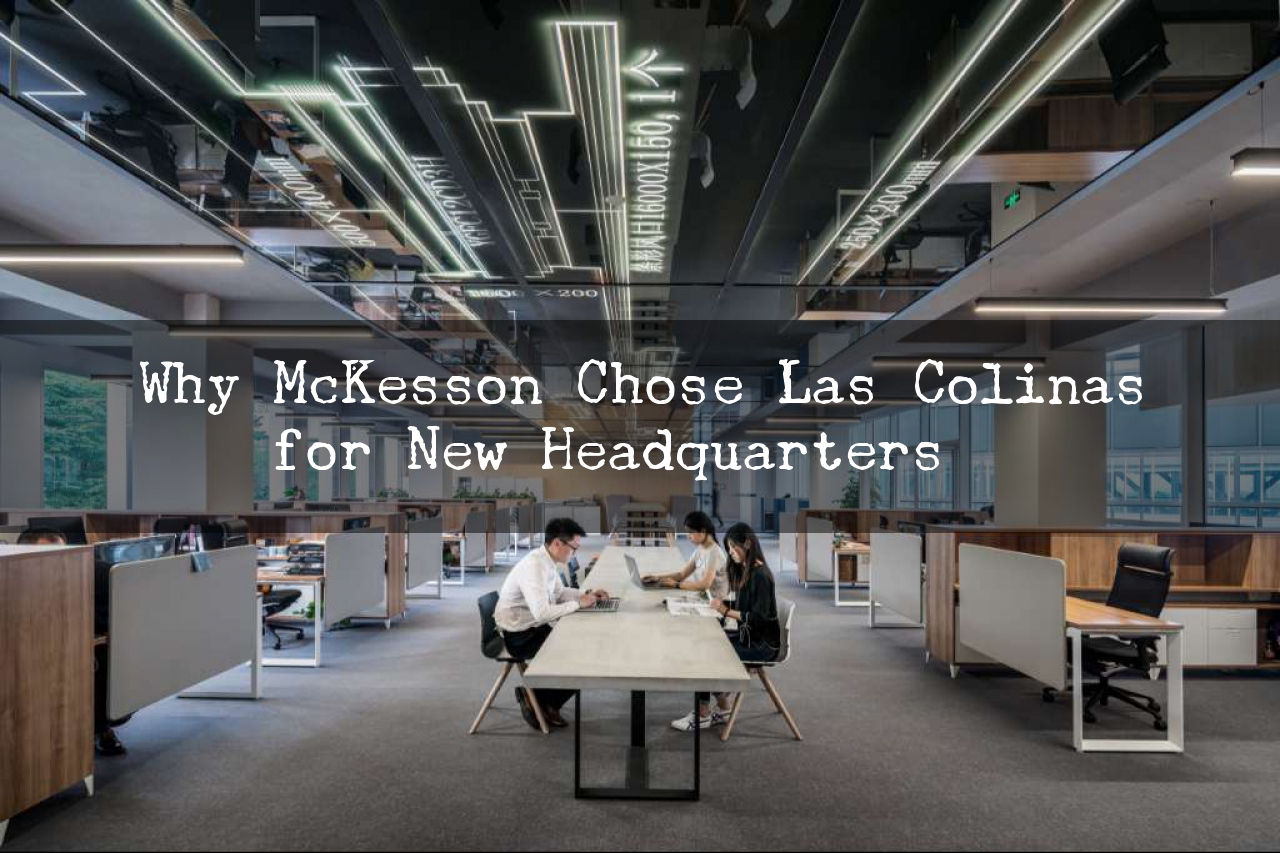 New Water Meters for Coppell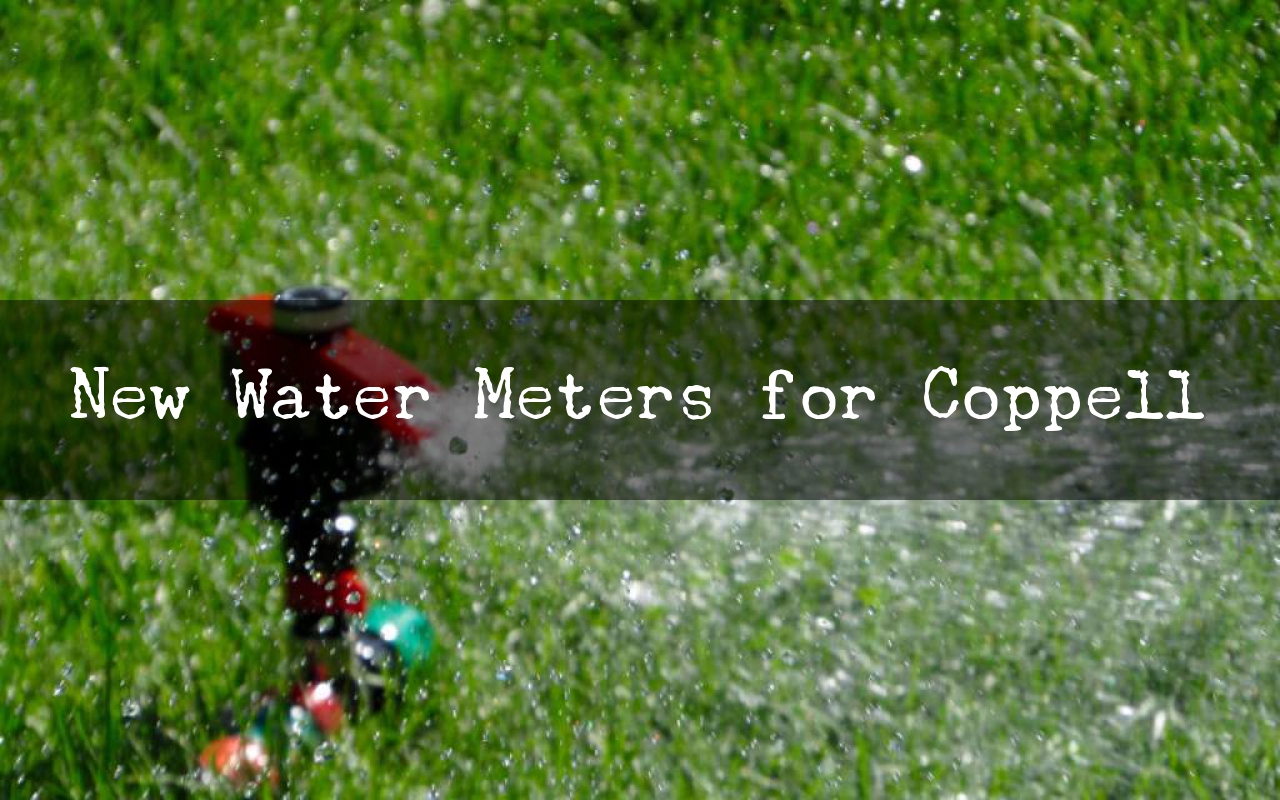 Tollway Project to Improve Traffic in Coppell and Valley Ranch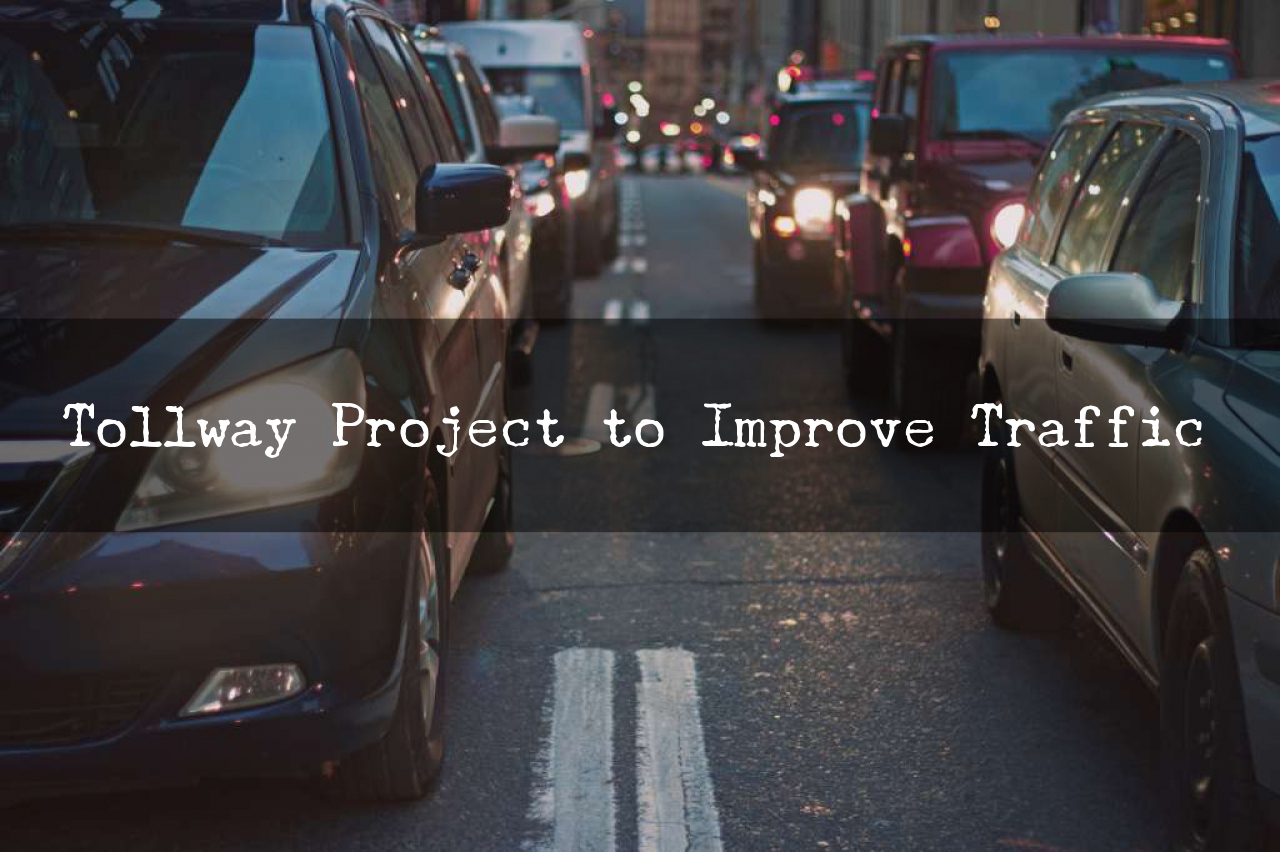 Dallas-Fort Worth Leads Nation in People Relocations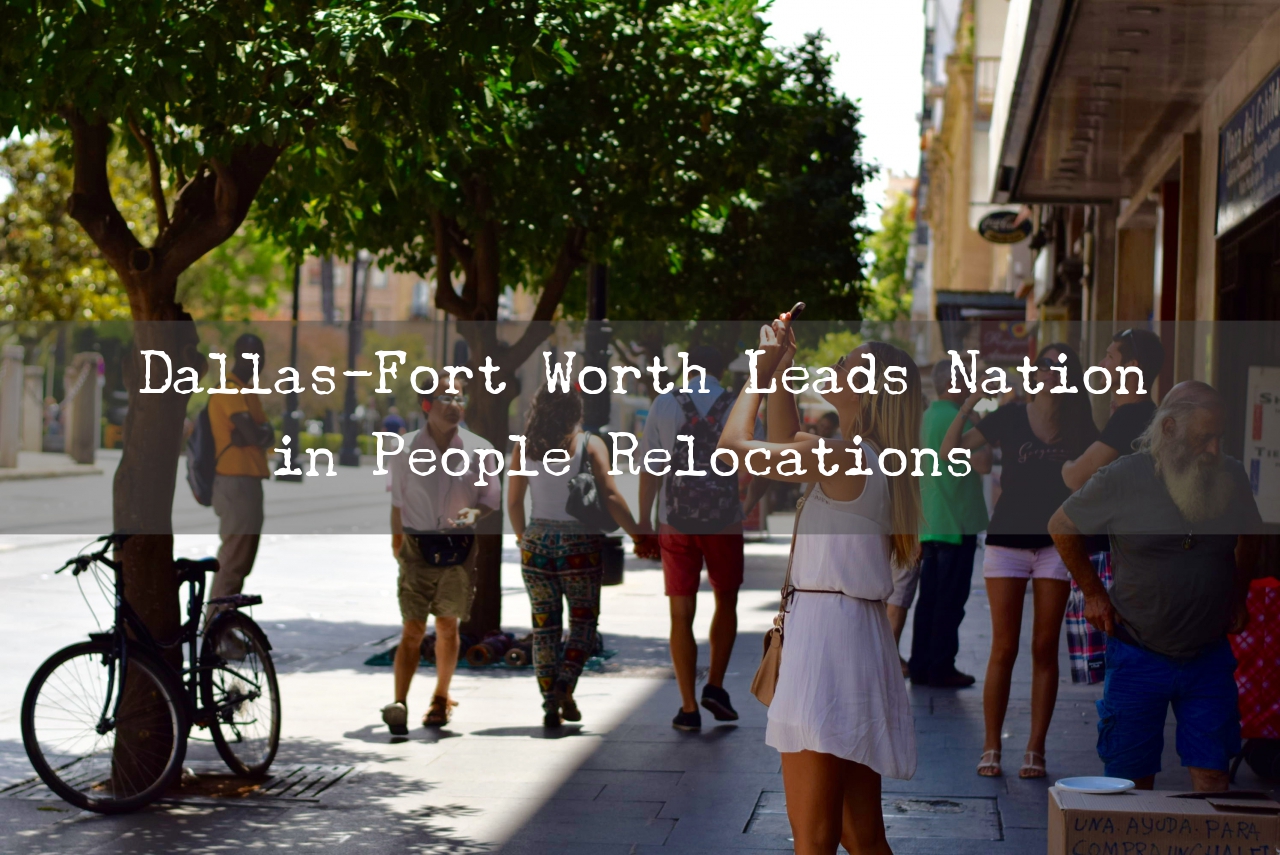 Dallas, U.S. Home Price Gains Slow in Latest Case-Shiller Report
Dallas May have Lost Amazon, but Downtown was still a Big Winner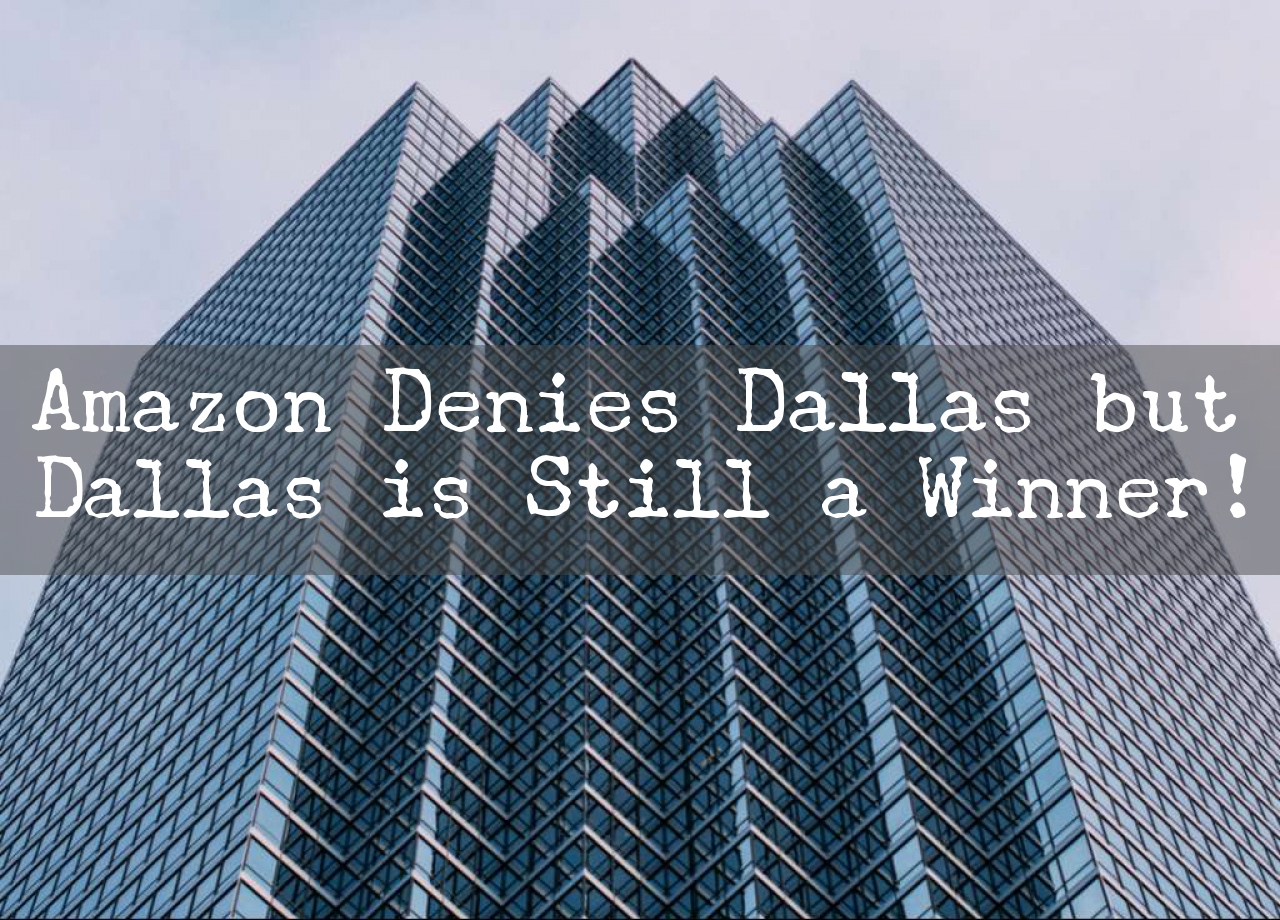 Dallas-Area Homeowners Have Gained More than $13,000 on Average in Home Equity Since Last Summer
Irving Flood Control District Makes Final Bond Payment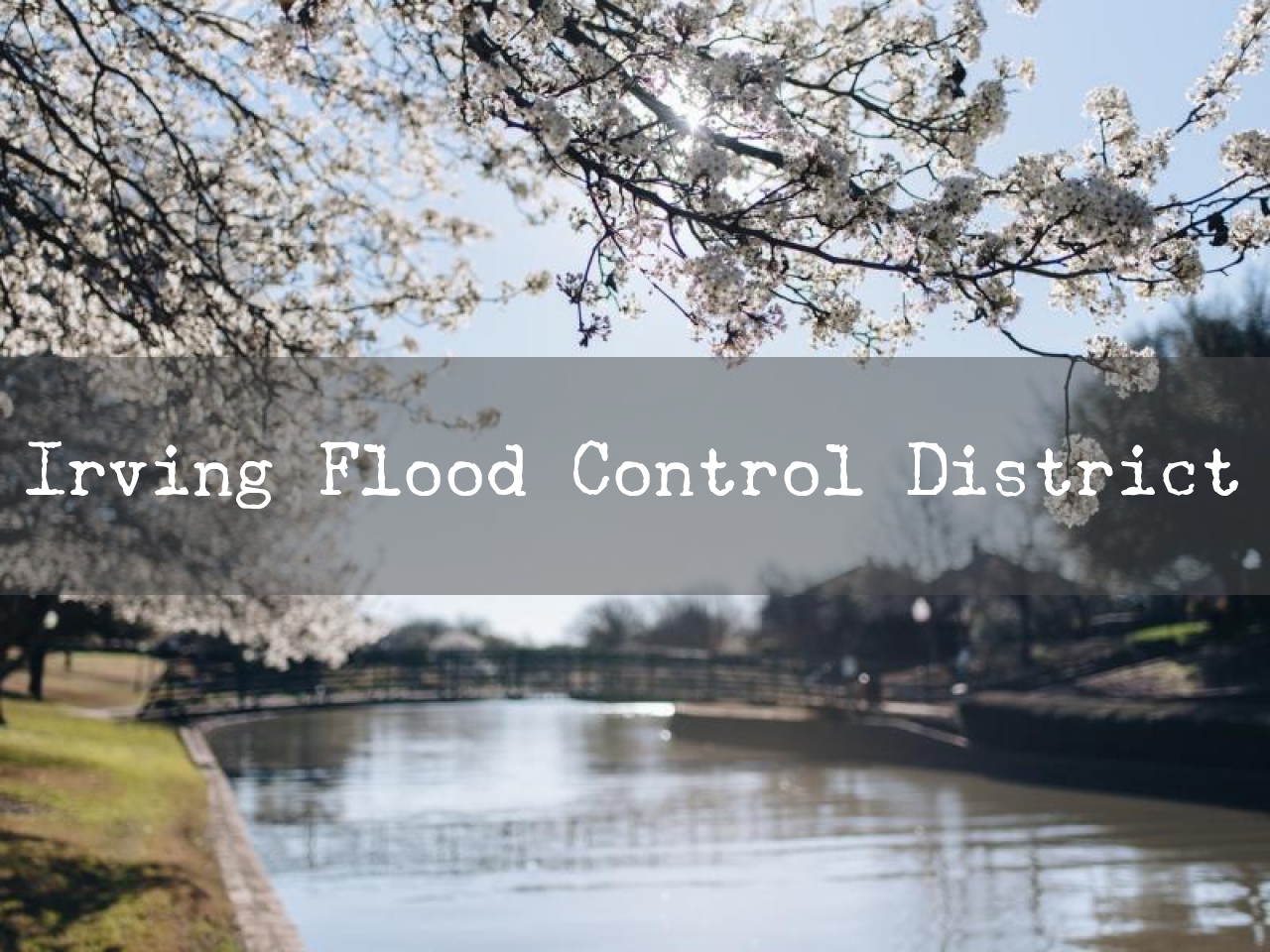 Study Reveals 'Starbucks Effect' On Home Prices
Dallas Home Price Gains Dwindle in Latest Case-Shiller Report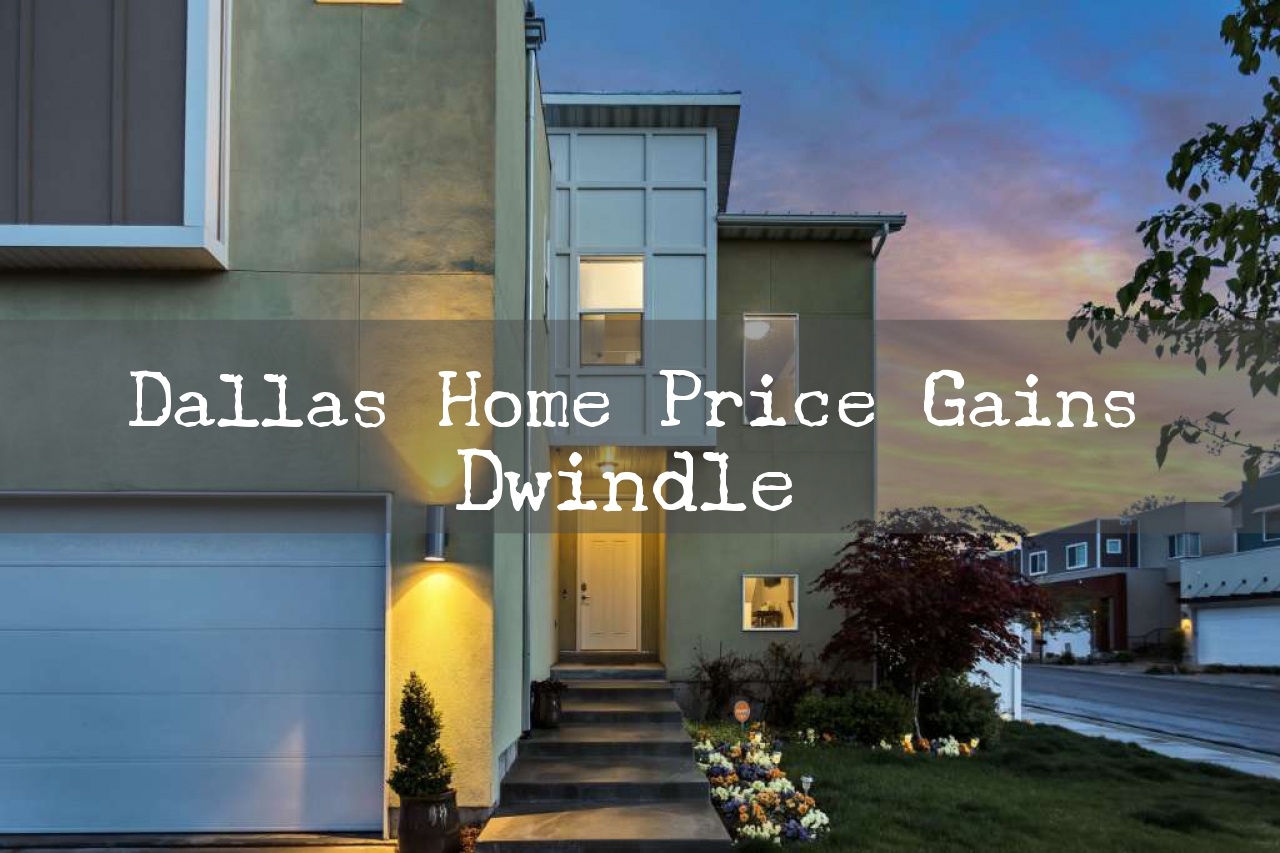 Rent vs. Buy: Is the Dallas Housing Market at a Tipping Point?
Coppell Tech Firm Growing Office 40% with Move to West Plano's Granite Park
Student Loans are Starting to Bite the Economy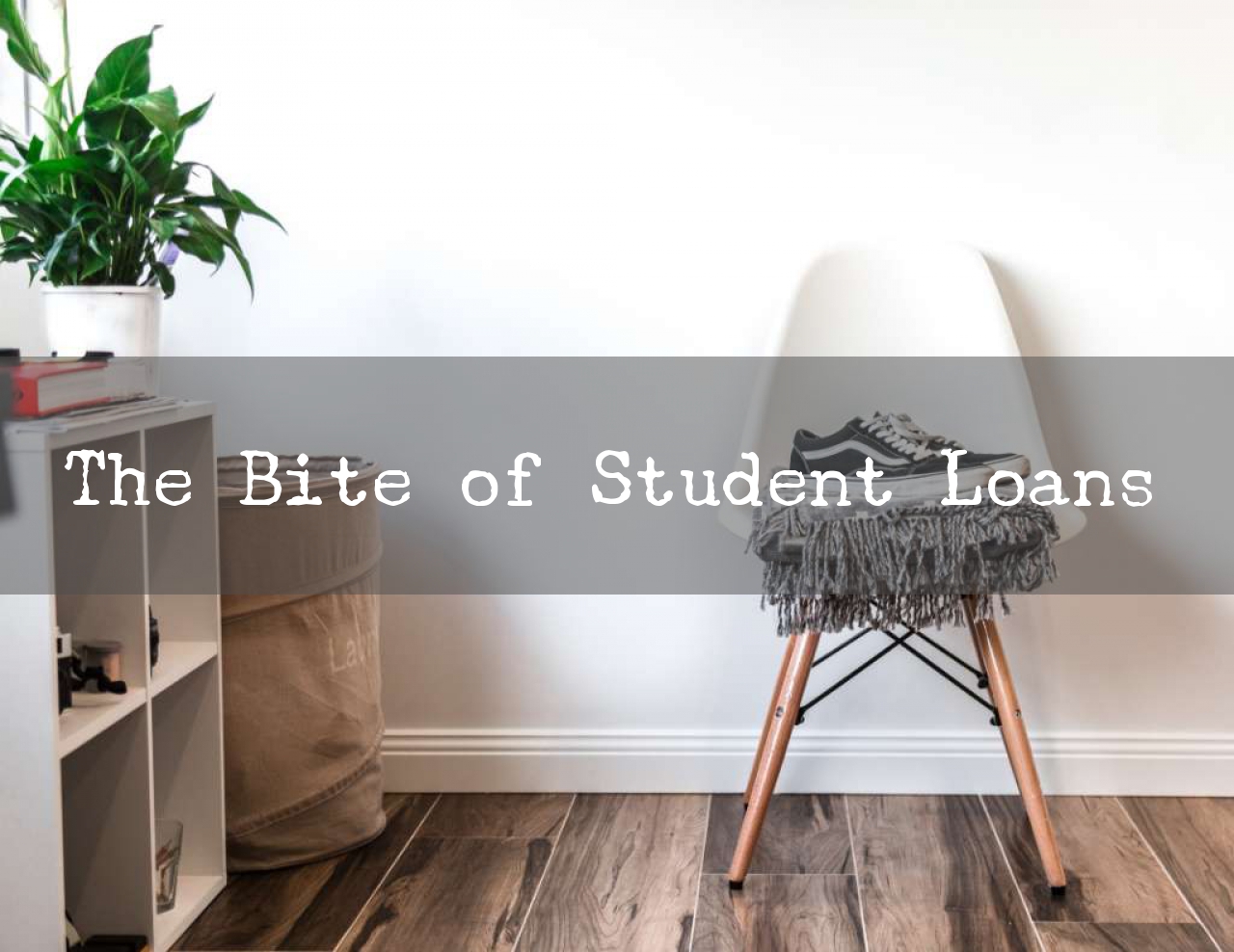 What Toyota's Campus Amenities say about the Competitive World of Employee Perks in D-FW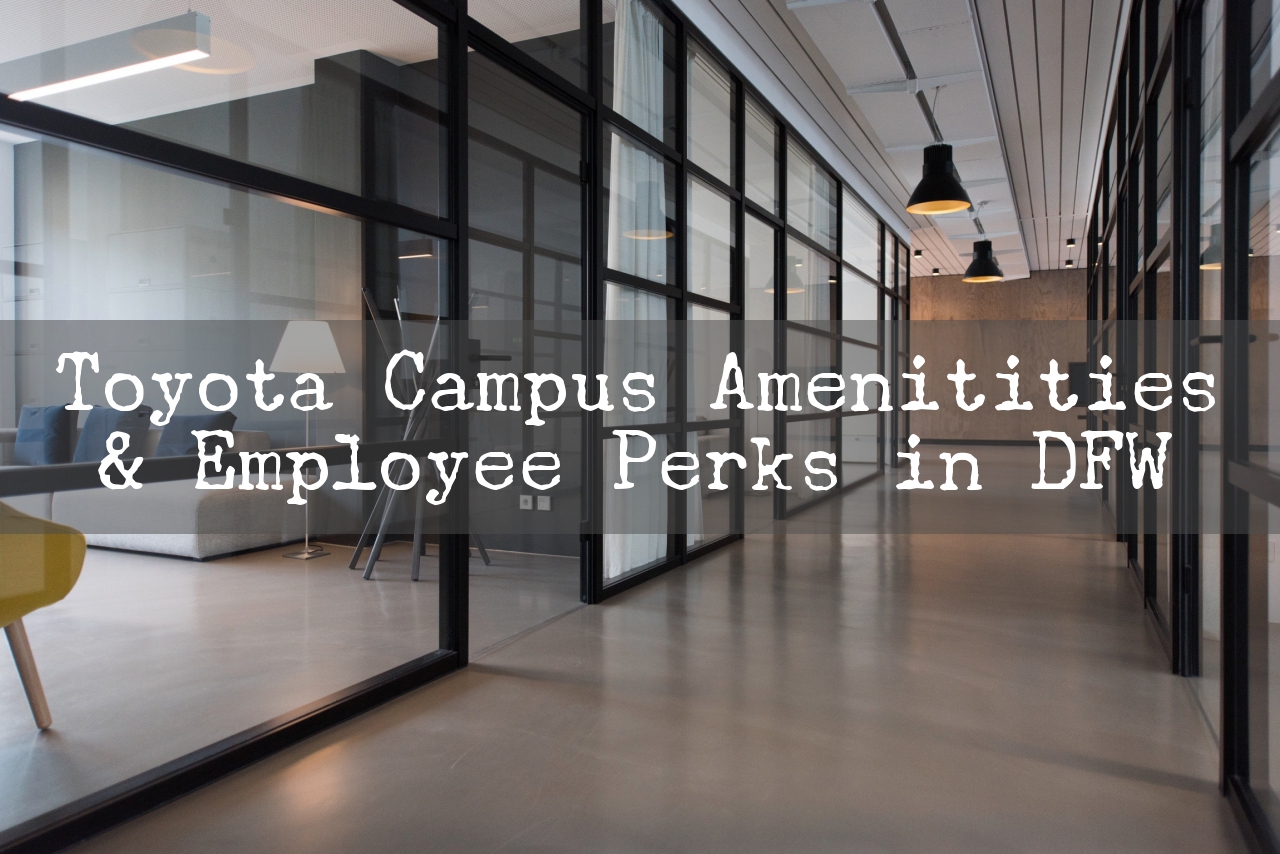 New York & DFW will Have the Most New Apartments in 2018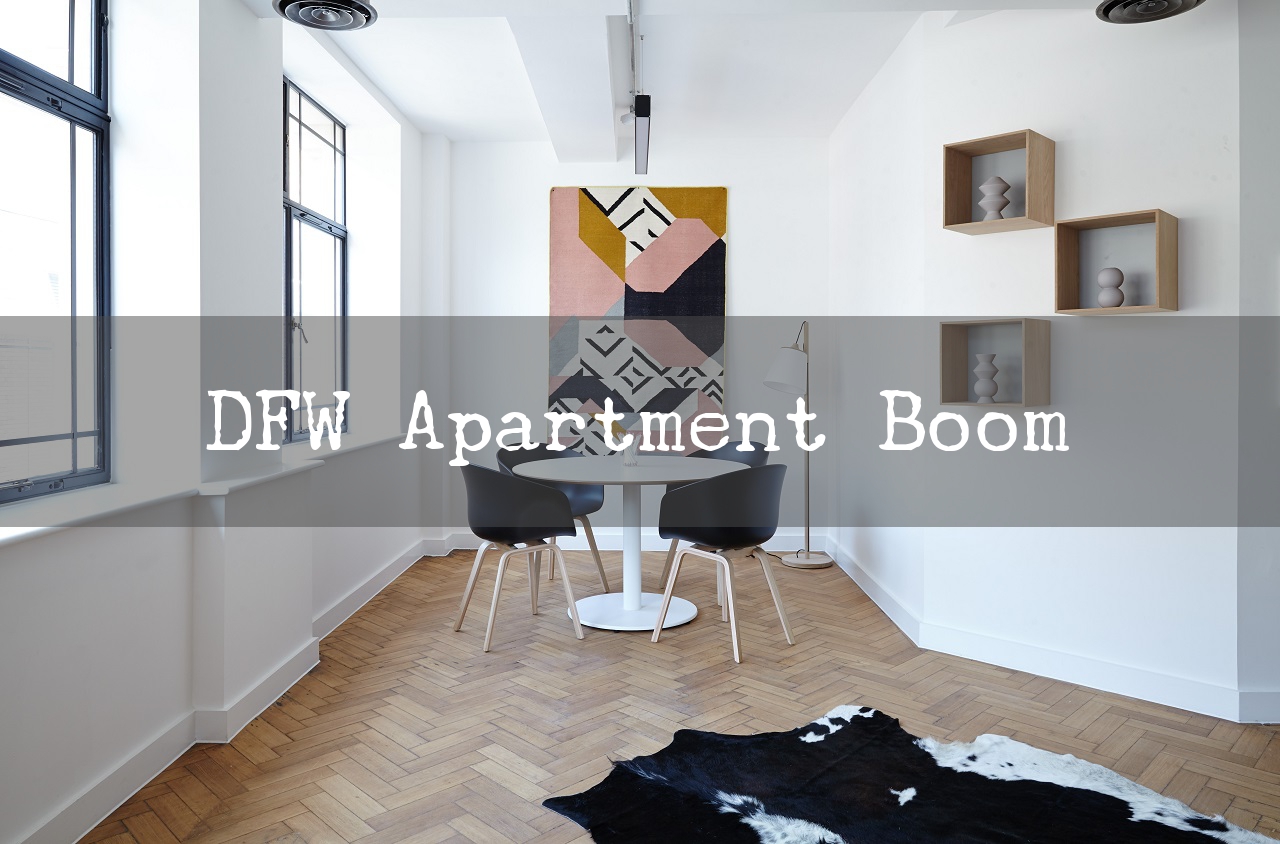 More D-FW Homes are Getting a Price Cut to Lure Buyers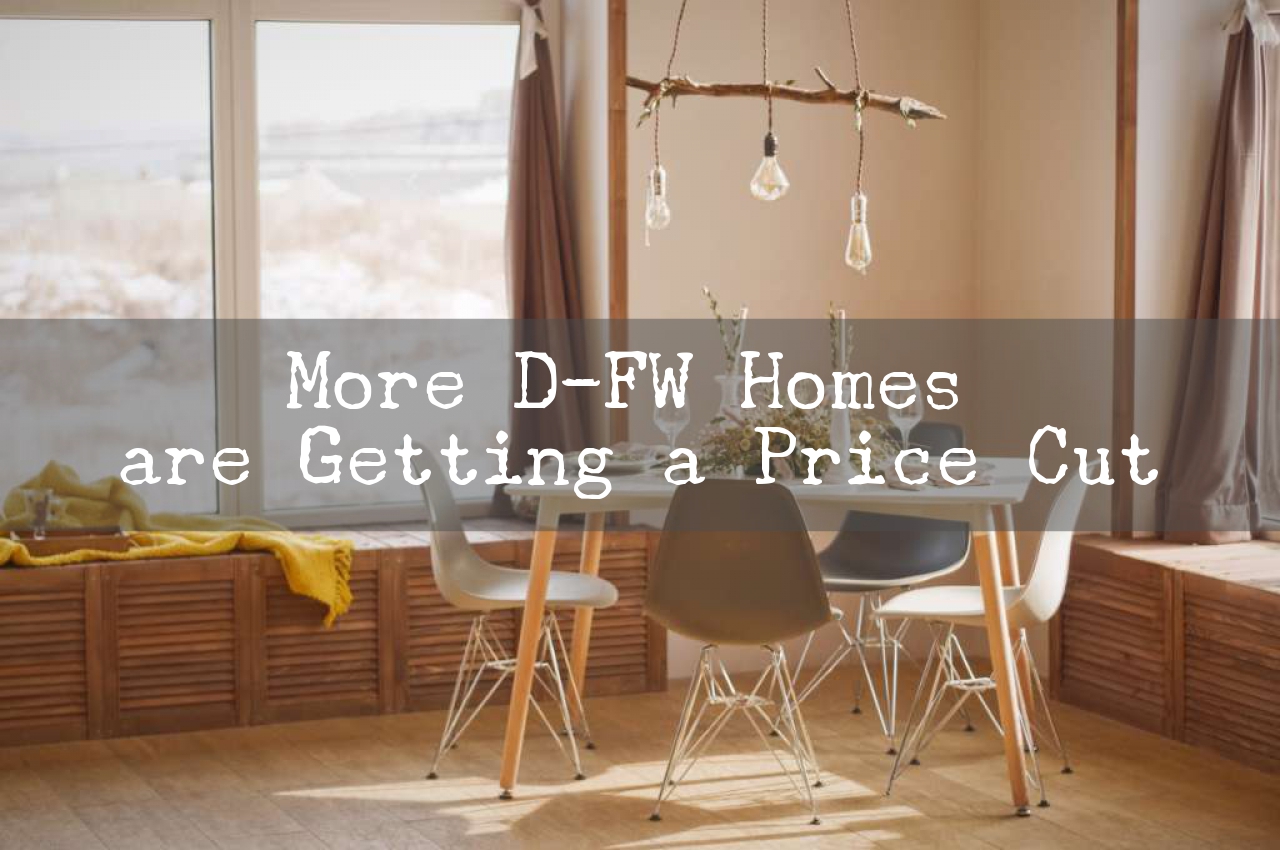 More for Sale Signs are Landing in Front of D-FW Homes this Summer
Will More Homes for Sale Make D-FW's Real Estate Market More Affordable?
Dallas Area Home Price Gains Continued to Cool in Latest Nationwide Comparison